Alabama State Bar Names Jeremy Rakes Director of the Alabama Lawyer Assistance Program
Published on February 10, 2020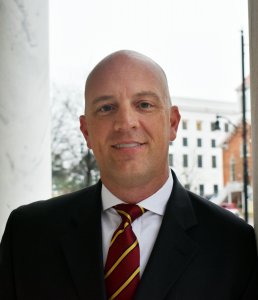 MONTGOMERY – The Alabama State Bar is pleased to announce that Jeremy Rakes has been named director of the Alabama Lawyer Assistance Program (ALAP). He follows Robert Thornhill who held the position for seven years.
Rakes joins the Alabama State Bar after 18 years with Bradford Health Services in Birmingham, where he held numerous roles including primary counselor, interventionist and family program director. In addition, he's a widely sought-after speaker on the topics of addition and recovery, and he's been a featured speaker at an ALAP event in recent years.
"Jeremy quickly stood out to us in the hiring process because of his energy and passion for ALAP's mission.  His strong background in counseling and understanding of addiction treatment will be a tremendous asset to the Alabama State Bar and the lawyers we serve," said Executive Director Phillip McCallum.
Outside of his professional accolades, Rakes considers his 20 years of sobriety to be his most significant achievement, and he continues to participate in and support Alcoholics Anonymous and Al-Anon (family support) groups.
"I am excited to continue the charge to lessen the stigma associated with mental health issues, such as depression, anxiety and substance-use disorders, and to educate those in the legal profession about the opportunities afforded to them through ALAP," said Rakes. "I want to make sure getting help is a less-intimidating venture for anyone who contacts our office."
Rakes received his undergraduate degree in social work from UAB and his Masters in social work from the University of Alabama. He and his wife Amy have 4 children, ages 24, 13, 10 and 6.
The Alabama Lawyer Assistance Program (ALAP) is a completely confidential program that provides immediate and continuing help to lawyers, judges, and law students who suffer from addictions and/or other types of mental health disorders such as depression, anxiety disorder and bipolar disorder.  In addition to Rakes, the program is also staffed by Shannon Knight, ALAP Case Manager and Joycelyn Hill, ALAP Program Coordinator.
You can contact the Alabama Lawyer Assistance Program at (334) 224-6920 or you can visit its website to learn more.

The Alabama State Bar (ASB) is the official licensing and regulatory organization of lawyers in Alabama. Since 1923, when the Alabama State Bar was created by an act of the legislature, ASB programs and activities have continuously served the public and improved the justice system. It is dedicated to promoting the professional responsibility and competence of its members, improving the administration of justice and increasing the public understanding of and respect for the law.
Media Contact:
Melissa Warnke
Director of Communications, Alabama State Bar
(334) 517.2218 (o) | (256) 338.0621 (c)
melissa.warnke@alabar.org