ASB Position Opening: Admissions Director
Published on October 11, 2021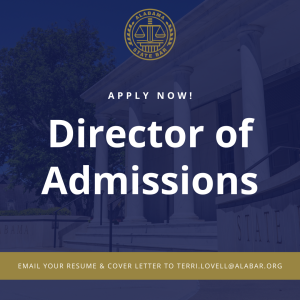 Position Summary
The Director of Admissions (Director) is a highly responsible administrative and supervisory position, which reports directly to the General Counsel and Executive Director of the Alabama State Bar (ASB). The Director is responsible for the administration and enforcement of the Rules Governing Admission to the ASB.
Essential Functions
Reviewing and analyzing law student registration applications and applications for admission by examination and without examination (reciprocity and UBE transfer)
Coordinating and scheduling appointments of the Committee on Character & Fitness (C&F) of the ASB; preparing schedules and files for C&F hearings
Serving as liaison to the Committee on C&F
Reviewing requests for special testing accommodations in accordance with the Americans with Disabilities Act (ADA) and coordinating documentation and analysis of the same with designated medical professionals
Coordinating and scheduling appointment of ASB Board of Bar Examiners (BBE)
Scheduling and providing administrative support for BBE meetings, and assisting the BBE in development of bar examination policies and procedures; serving as liaison to BBE
Administering Alabama bar examination, including managing logistics, scheduling and training monitors, coordinating computer and security personnel, coordinating on-site arrangements with bar examination venue, and managing and securing testing materials throughout the examination
Coordinating with BBE and National Conference of Bar Examiners (NCBE) to develop timelines for delivery of testing materials, grading of examination, transfer of scores and communication to examinees
Coordinating distribution and publication of bar examination results to examinees, ASB staff, and Supreme Court of Alabama; preparing files of any new admittee for transfer to Membership department
Preparing programs for Admission Ceremony and coordinating with ASB Young Lawyers Section in planning and presentation of Admission Ceremony
Other tasks as directed and/or requested by the Board of Commissioners of the ASB, General Counsel, Executive Director, or other ASB staff.
Primary Qualifications
Resident of, or willing to move to, Montgomery area
Law degree required
Excellent written and verbal communication skills
Experience managing direct reports, including managing performance
Organizational, leadership, decision-making, and analytical skills required
Ability to effectively collaborate with co-workers and management
Proficient in Microsoft Office programs
Even temperament and ability to deal with challenging situations
Meet deadlines and complete assignments
Travel
Occasional travel, both within and outside the state of Alabama, will be required.
Application Process
All cover letters, resumes, and references should be emailed to terri.lovell@alabar.org Please include "Admissions Director" in the reference line. No telephone calls please.
Cover letters and resumes should include a list and short description of work experience demonstrating the applicant's executive and management experience or other preferred qualifications. All inquiries are strictly confidential.
Application Deadline: October 31, 2021