ASB Position Opening: Law Practice Management Coordinator
Published on October 11, 2021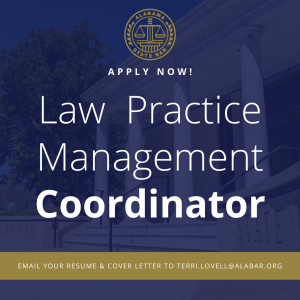 ALABAMA STATE BAR: LAW PRACTICE MANAGEMENT COORDINATOR
About the Bar:
The Alabama State Bar (ASB) is the regulatory authority for the legal profession in Alabama with over 18,000 attorney members and approximately 35 employees. The Board of Bar Commissioners (BBC) is the governing and policy-making body of the ASB. The Executive Director is hired by and reports to the BBC. The ASB is dedicated to promoting the professional responsibility and competence of its members, improving the administration of justice and increasing the public understanding of and respect for the law.
Job Description:
The Law Practice Management Coordinator is responsible for the acquisition, management and dissemination of information on management best practices for lawyers and law firms.  This includes gathering information, reviewing member benefit proposals, participating in the planning of CLE programs, speaking at CLE programs, writing for Alabama State Bar publications and other publications related to law practice management, and consulting with individual attorneys and firms.
Primary Duties and Responsibilities
Offer written and oral consultations regarding management-related issues to lawyers;
Collect and disseminate information about effective law-practice management, including but not limited to books, videos, and software relating to accounting issues, client relations, marketing, and technology;
Prepare and present programs to Continuing Legal Education and other seminars, local bar associations, courts, state agencies, legal service organizations, and law firms regarding effective practice management techniques and ethics;
Author a blog and/or an occasional article for The Alabama Lawyer on a law practice management topic;
Occasionally assist Alabama State Bar staff in hosting or operating certain events; and
Answer to and perform other tasks as assigned by the Executive Director.
Primary Qualifications
Resident of or willing to move to Montgomery, Alabama.
Law degree preferred but not required.
Good legal research, speaking and writing skills.
Strong understanding of internet search engines and social media platforms.
Familiar with relevant topics, such as Lawyers Use of MS 365 and Outlook, Ethics and Technology, Billing and Conflict Check Software, and Improving Communications with Clients.
Office management experience and a background in the private practice of law is preferable.
Travel:
Occasional travel, both within and outside the state of Alabama, will be required.
Application Process:
All cover letters, resumes, and references should be emailed to Terri Lovell at terri.lovell@alabar.org.  No telephone calls please.
Cover letters and resumes should include a list and short description of representative projects demonstrating the applicant's executive and management experience or other preferred qualifications. All inquiries are strictly confidential.
Application Deadline: October 31, 2021.