Leadership Forum Now Recruiting Class 16
Published on November 4, 2021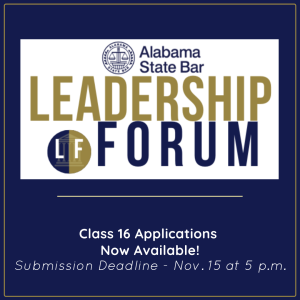 The Alabama State Bar is now accepting applications for Leadership Forum Class 16. All applications must be completed via the online form no later than 5 p.m. on Nov. 15, 2021, at which time the application process will close. Successful applicants will be notified no later than December 17. Class 16 will consist of no more than 30 participants.
Applicants must be in good standing with the Alabama State Bar and have practiced law for at least 5 years but no more than 16 years as of January 1, 2022 (based upon first admission to any state bar).
To apply, or nominate someone from your firm, please complete the online application. For more information, contact Robyn Bernier.