CANCELLED: 19th Amendment Capital City Celebration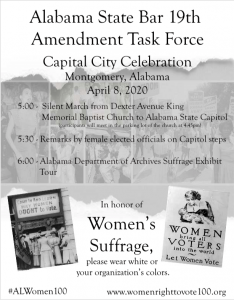 In light of covid-19 concerns and Montgomery city activities having been suspended, the 19th Amendment ASB Task Force Capital City Celebration originally planned for April 8 has been cancelled. We may reschedule at a later date.
Join the Alabama State Bar 19th Amendment Task force as they host the Capital City Celebration, Wednesday, April 8, in downtown Montgomery.
While the event will begin with a silent march from Dexter Avenue King Memorial Baptist Church at 5 p.m., participants will meet in the parking lot of the church at 4:45 p.m.
Learn more about the 19th Amendment Task Force Capital City Celebration by viewing the event flyer.