Thanks to all those who participated in Law Day 2021!
View highlights from our 2021 Law Day below!
Law Day is observed every year to celebrate the role of law in our society and to cultivate a deeper understanding of the legal profession.
The 2021 Law Day theme is "Advancing the Rule of Law Now." The rule of law is the bedrock of American rights and liberties, in times of calm and unrest alike. The 2021 Law Day theme reminds us that we the people share the responsibility to promote the rule of law, defend liberty, and pursue justice.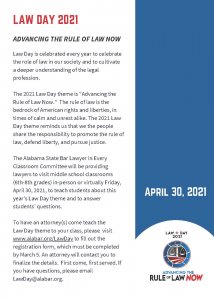 The Alabama State Bar Lawyer in Every Classroom Committee provided lawyers to visit middle school classrooms (6th-8th grades) in-person or virtually Friday, April 30, 2021, to teach students about this year's Law Day theme and to answer students' questions.
If you have questions, please email LawDay@alabar.org.