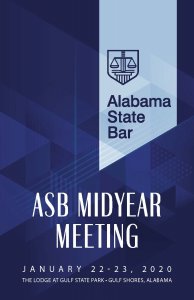 The 2020 Midyear Meeting will be held Wednesday, January 22 through Thursday, January 23, at The Lodge at Gulf State Park in Gulf Shores.
View and download the agenda here, or scroll down for the full schedule of events.
Want an ASB long sleeve shirt or sweatshirt? >>Order here<<
Do you have dietary restrictions? Email Director of Programs Ashley Penhale to make arrangements.
PRESENTING SPONSOR: AIM

AGENDA
WEDNESDAY JANUARY 22

9:00 a.m. – 5:00 p.m.
Midyear Meeting Registration/Check-In
12:30 p.m. – 1:00 p.m.
Welcoming Remarks
(.5 hours MCLE credit)
Speakers: Chief Justice Tom Parker, Alabama Supreme Court; Rich Hobson, Administrative Director of Courts; Christy Crow, President of the Alabama State Bar; Judge Teresa Pullman, President of the Alabama Circuit Judges Association; Judge Carole Medley, President of the Alabama District Judges Association; and, Wally Lowery, Director of the Alabama Judicial College
1:00 p.m. – 2:30 p.m.
Part 1 of Lawyers at the Movies: Learning from the Top"Lawyer" Movies of All-Time
(1.5 hours MCLE credit)
Speaker: William Newman, University of Southern Mississippi
Although Hollywood has a tendency to portray lawyers and the legal profession in a very unrealistic light, wonderful lessons for practicing lawyers nonetheless abound in some of the most beloved"lawyer" movies and TV shows of all time.
2:30 p.m. – 2:45 p.m.
Break
2:45 p.m. – 4:15 p.m.
Part 2 of Lawyers at the Movies: Learning from the Top"Lawyer" Movies of All-Time
(1.5 hours MCLE credit)
Speaker: William Newman, University of Southern Mississippi
4:15 p.m. – 4:30 p.m.
Break
4:30 p.m. – 5:30 p.m.
Wellness Presentation (1.0 hour MCLE credit)
Speaker: TBA
6:00 p.m. – 7:30 p.m.
Joint Reception with Alabama Circuit Judges Association and Alabama District Judges Association
THURSDAY JANUARY 23
7:45 a.m. – 9:00 a.m.
Buffet Breakfast and State of the Bar and Judiciary
(1.0 hour MCLE credit)
Speakers: Chief Justice Tom Parker, Alabama Supreme Court, and Christy Crow, President of the Alabama State Bar
9:00 a.m. – 9:15 a.m.
Break
9:15 a.m. – 10:15 a.m.
Plenary Session
(1.0 hour MCLE credit)
Speaker: TBA
10:15 a.m. – 10:30 a.m.
Break
10:30 a.m. – 11:30 a.m.
Breakout Sessions
Civil Update
(1.0 hour MCLE credit)
Speakers: Judge Jim Hughey and Wilson F. Green
Criminal Update
(1.0 hour MCLE credit)
Speakers: Judge Teresa Pullman, Carmen Howell, and Kandice Pickett
Domestic Relations Update
(1.0 hour MCLE credit)
Speakers: Judge Jeremy Taylor, Holly Sawyer, and Heather Fann
"Ed Talks"
(1.0 hour MCLE credit)
Speakers: Judge Adrian Johnson, Jenna Bedsole, Brett King, and Diandra Debrosse Zimmerman
Evidence Update: Deepfakes/Social Media
(1.0 hour MCLE credit)
Speakers: Judge Scott Donaldson, Judge Lara Alvis, and Rip Andrews
11:30 a.m. – 11:45 a.m.
Break
11:45 a.m. – 12:45 p.m.
Bench & Bar Luncheon (1.0 hour MCLE credit)
Speaker: Chief Judge Stephen Dillard, Georgia Court of Appeals
12:45 p.m. – 1:00 p.m.
Break
1:00 p.m. – 2:00 p.m.
Breakout Sessions
Criminal Update
(1.0 hour MCLE credit)
Speakers: Judge Teresa Pullman, Carmen Howell, and Kandice Pickett
Domestic Relations Update
(1.0 hour MCLE credit)
Speakers: Judge Jeremy Taylor, Holly Sawyer, and Heather Fann
DUI/Interlock Device Update
(1.0 hour MCLE credit)
Speakers: Zach Peagler, Sean McTear,  and  Samantha Naramore
Evidence Update: Deepfakes/Social Media
(1.0 hour MCLE credit)
Speakers: Judge Scott Donaldson, Judge Lara Alvis, and Rip Andrews
Workers' Compensation Update
(1.0 hour MCLE credit)
Speakers: Judge Chris Comer, Kira Fonteneau, and Shawn Cole
2:00 p.m. – 2:15 p.m.
Break
2:15 p.m. – 3:15 p.m.
Breakout Sessions
Civil Update
(1.0 hour MCLE credit)
Speakers: Judge Jim Hughey and Wilson F. Green
Garnishments Update
(1.0 hour MCLE credit)
Speaker: Hilaire Armstrong
Landlord Tenant Update
(1.0 hour MCLE credit)
Speaker: Judge Joe Basenberg
Practical Trial Skills
(1.0 hour MCLE credit)
Speakers: Rip Andrews and Ashley Peinhardt
Workers' Compensation Update
(1.0 hour MCLE credit)
Speakers: Judge Chris Comer, Kira Fonteneau, and Shawn Cole
3:15 p.m. – 3:30 p.m.
Break
3:30 p.m. – 5:00 p.m.
Plenary Session—Leadership and Relationships with the Legislature
(1.5 hours MCLE credit)
Speakers: Paul DeMarco, Chris England, Judge Lang Floyd, Suzi Huffaker, Judge Phil Seay, and Justice Sarah Stewart