GA-AL Chapter Family, Removal & Asylum Conference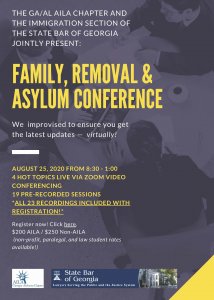 How to register? Right here!
When is it? August 25, 2020. The four live, zoom panels will run from 8:30a – 1p.
What topics do the live panels cover? (1) immigration law as a calling (professionalism); (2) COVID-19 updates and hot topics; (3) ethics; and (4) public charge!
What are the pre-recorded sessions? There are 19 pre-recordings you'll receive on three different tracks. These are pre-recorded for you to listen to at your convenience … whenever you'd like! You can rewind, take detailed notes, fast forward, etc. No missed notes at this conference – just rewind and replay! YOU CAN ATTEND THEM ALL.
For more information contact Sam E. Radin at SRadin@immlawfirm.com or Eszter Bardi Johnston at ekbardi@gmail.com.