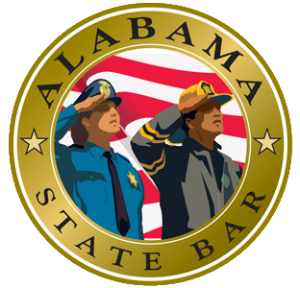 Everyday, firefighters, police and emergency medical personnel devote their lives to serving their communities, and they are prepared to pay the ultimate price in the line of duty. The Wills for Heroes project of the Alabama State Bar was created to provide the legal community with a way to show its appreciation for the efforts and sacrifices of these brave men and women. The project is managed by the Alabama State Bar Volunteer Lawyers Program. The Wills for Heroes project offers first responders free basic estate planning services. This service is intended to give them the peace of mind by knowing that their affairs are "in order" should the unthinkable occur.
Alabama's "first responders" are eligible for this free service. Service must be coordinated through employers. Those eligible include:

Police Officers
Firefighters
Emergency Medical Personnel

(First Responders with assets in excess of $600,000 will not be eligible to participate in the program.)

Volunteer lawyers and support staff travel to the fire or police station with laptop computers preloaded with the necessary software and they meet "one-on-one" with the first responders. On the day of the event, information from questionnaires completed by the first responder is entered into the computer program. The Alabama State Bar through a partnership with the Wills for Heroes Foundation has been provided a user-friendly software program called HotDocs™ by LexisNexis. HotDocs™ is a document assembly software that converts the information entered in the computer from the questionnaire into a complete documents template. The software program simply presents a series of pre-programmed questions that correspond to the questions in the questionnaire completed by the first responders.

Based on the answers that the first responder provides to the questions in the questionnaire, HotDocs™ generates a personalized Will, Power of Attorney and Health Care Directive. Once the documents are generated by the computer, they are printed, reviewed by the lawyer and first responder, and when complete, executed by the first responder.

To volunteer, please complete the enrollment form.

If you are interested, have your employer contact Linda Lund, Director of the Alabama State Bar Volunteer Lawyers Program.

The Wills for Heroes program provides only the services listed above. If you have other legal needs, you may consult an attorney or check with the State Bar to see if there are other legal service providers that may be able to assist you.

Alabama Association of Paralegals, Inc.

Alabama Lawyers Association

Elder Law Section

Lexis/Nexis

Real Property, Probate & Trust Law Section

Volunteer Lawyers Program

Wills for Heroes Foundation

Young Lawyers Section

The Wills for Heroes® Foundation, a 501(c)(3) organization, provides support, services, financial assistance and supplies primarily to eligible emergency first responders and their families in the United States and secondarily to other public safety providers assisting with emergency public service events.