2020 Legislative Update: Week Two
Published on February 14, 2020
Legislative Tracking
The Alabama State Bar provides a tracking report concerning pending legislation that may be of interest to our members.
We also divide legislation into the following categories for your convenience:
Legislative Summary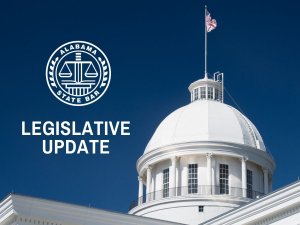 The second week of the Legislative Session began Tuesday, Feb. 11, and the business of the legislature is still ramping up with the introduction of bills, committee meetings and session days. It was a typical week with session on Tuesday and Thursday and committee meetings on Wednesday. There are now 192 bills introduced in the Senate and 251 bills introduced in the House of Representatives.
Some bills of interest introduced this week include changes to homestead exemptions, ad valorum property taxes and DNA testing in criminal procedures. We also saw a bill making another change to the DUI law, a bill about the restoration of voting rights in certain instances, a bill relating to occupational taxes, and a medical marijuana bill. Several bills were introduced relating to elder abuse and the protection of seniors. There was also the introduction of two Alabama Law Institute bills, one revising the business code as to nonprofit entities and the other a non-disparagement obligations act.
The interim judge bill passed out of committee this week, and a bill addressing deferred presentments failed to pass out of committee. There were also bills in committee addressing several new crimes.
As always, the Alabama State Bar encourages all members to be aware of legislation that may impact court costs and fees. Access to justice is a priority. Please be aware of advertisements that may be occurring for local bills and those that may already be filed to use the courts as a fundraiser for non-court entities. We encourage you to be informed and notify us as well.
Legislative Calendar
The regular session of the 2020 Legislative Session is proceeding as follows:
The Senate has adjourned until Tuesday, Feb. 18, 2020 at 3:00 p.m.
The House has adjourned until Tuesday, Feb. 18, 2020 at 2:00 p.m.