2021 Legislative Session: Week Three
Published on February 26, 2021
Legislative Tracking
The Alabama State Bar provides legislative status reports concerning pending legislation that may be of interest to our members. The reports divide legislation into the following categories for your convenience: criminal, domestic relations, judicial, court costs, elections ethics and government relations (EEGR), civil/ general and tax. To view these reports, click here.
Legislative Summary
After taking a week off to assess COVID-19 protocols in place during the first two weeks of the session, the Alabama Legislature returned on Tuesday, Feb. 23, 2021, and immediately went to work. All safety procedures remained in place, including limited access, but that did not deter a packed three-day schedule set by the legislators.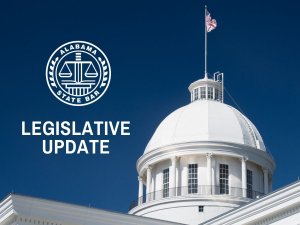 There were three session days this week, with committee meetings on Tuesday and Wednesday prior to session commencing. The House of Representatives had a massive committee schedule, working through numerous bills, many of which were legislation carried over and re-introduced from last year's premature recess due to COVID-19. Many of these bills deal with various state agencies and local issues. There were several additional bills introduced this week as well, bringing the number of bills filed in the House of Representatives to 470 and 275 in the Senate.
Some of the bills introduced this week include Medicaid expansion, a provision to increase mileage paid to jurors, legislation relating to firearms, homeowners associations, changes to the DUI laws, a proposal to allow the legislature to call itself into special session under certain circumstances, several election law bills, bail reform and other criminal law changes. There were also two bills introduced that propose changes to the notary laws of Alabama.
Bills receiving debate in committee on Tuesday and Wednesday of this week included expungement legislation, a debate over the creation of the crime of "doxing" ( the intentional electronic publication of personal information with the intent that others will use the information to harm or harass the person), an update to the nonprofit business code, a change to the uniform decanting law, and several education policy issues. There were also bills moving that were supportive of the military and veteran's affairs.
Bills of note receiving passage out of their house of origin this week include one that further provides for community corrections programs throughout the state; including allowances for counties that do not currently have such programs. Medical marijuana legislation passed out of the Senate. The House of Representatives also moved the "sunset" legislation of Alabama's many licensing boards and commissions that are required to have periodic legislative review as well as many local and agency-oriented bills.
Legislative Calendar
The regular session of the 2021 Legislative Session is proceeding as follows:
The Senate has adjourned until Tuesday, Mar. 2 at 2:00 p.m.
The House has adjourned until Tuesday, Mar. 2 at 1:00 p.m.