2023 Alabama State Bar Annual Awards
Published on July 20, 2023
MONTGOMERY – The Alabama State Bar announced the recipients of several awards honoring members of the legal profession as part of its annual meeting Saturday, July 15, 2023, at the Grand Convocation.
Judicial Award of Merit
This award is presented to a judge who is not retired, whether state or federal court, trial or appellate, and is determined to have contributed significantly to the administration of justice in Alabama. The 2023 recipient is Judge Eddie Hardaway, Jr.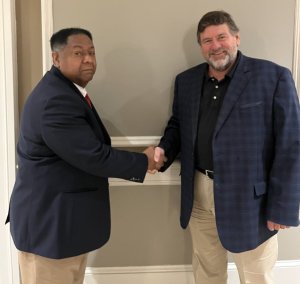 Judge Eddie Hardaway, Jr.
was educated in the Sumter County Public School System and graduated Salutatorian from Livingston High School in 1971. He played clarinet for the University of Alabama's Million Dollar Band and graduated from the University of Alabama in 1974. Eddie continued his studies at University of Alabama School of Law and graduated in 1977. After graduation, he took a position with the Attorney General's Office of the State of Alabama. Eddie has always had a passion for helping people, and in December of 1978 he left the Attorney General's Office to become a Staff Attorney for Legal Services in Selma, Alabama. Eddie was passionate about his work with Legal Services, but he felt there was a greater need in his own community. In January of 1980, Eddie returned to Sumter County and became a partner in England, Bivens, and Hardaway in York, Alabama.
In June of 1980, Eddie Hardaway, Jr. married Lena Bonner. In 1985, Robert, their only child was born. Eddie Hardaway, Jr., has an older son Eddie Duane Hardaway, from his first marriage. Eddie is also a father to his eldest nephew Linwood Bonner. In the middle of 1980, Eddie Hardaway, Jr. decided to run for public office. In November of 1980, Eddie Hardaway, Jr. became the first African American District Court Judge in Sumter County, Alabama. Judge Hardaway was re-elected to this position twice before being elected the first African American Presiding Circuit Court Judge in the 17th Judicial Circuit of Alabama in November of 1994. Judge Hardaway has been re-elected to this position four times and is currently one of the longest serving judges in the state of Alabama. He is currently the Chairman of the Sumter County Industrial Development Authority, a trustee at Alabama State University, a Past President of the University of Alabama National Alumni Association, a graduate of Leadership Alabama, the current Chairman of the Alabama New South Coalition-Sumter County Chapter, a Masonic Brother, a member of Alpha Phi Alpha Fraternity, and member of First Baptist Church in Livingston, Alabama. In addition to being one of the most dedicated public servants in modern times, Judge Hardaway is a prolific businessman. He is the President and Founder of Hardaway's Funeral Services, Inc. in York, Alabama.
Michael D. Ermert Award of Merit
The Michael D. Ermert Award of Merit is the highest honor given by the Alabama State Bar to a lawyer and serves to recognize outstanding constructive service to the legal profession in Alabama. The 2023 recipient is Rebekah Keith McKinney.
Rebekah McKinney
was born in Huntsville, Alabama and has practiced law there since 1997. Rebekah practices with Watson McKinney, LLP, in the areas of personal injury and wrongful death, employment discrimination, family law and estate and administrative matters. Rebekah received her undergraduate degree from Vanderbilt University in 1991 and her law degree from the University of Alabama School of Law in 1995. She is President-Elect of the Huntsville Bar Association and has also served as its
Treasurer. She served as the first female
President of the Alabama Association for Justice, for
which she continues to be a Board member, and on the Board of the Alabama Civil Justice Foundation. Rebekah previously served as a Bar Commissioner for the Alabama State Bar for the 23rd Judicial Circuit, Vice President of the State Bar and is currently a Disciplinary Hearing Officer for the State Bar. She is a Fellow of the Alabama Law Foundation, a member of the Appellate Rules Committee of the Alabama Supreme Court, and is a member of the Judicial Resources Allocation Commission. Rebekah has also been engaged in the Huntsville community, having been a member of the Board of Directors of the Earlyworks Museum, Alabama Constitution Village Foundation, the Arts Council of Huntsville, the Junior League of Huntsville and Free 2 Teach. Rebekah has three sons, Sam (19), Griffin (17) and John (17).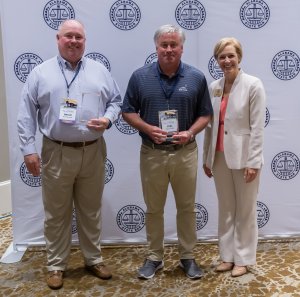 Commissioners' Award
This award was created by the Board of Bar Commissioners in 1998 to recognize individuals who have had a long-standing commitment to the improvement of the administration of justice in Alabama. The 2023 recipients are Joel Connally and Brian Strength.
Joel Connally is a native of Gadsden, Alabama. He graduated from Auburn University in 1993, worked for two years and then went to law school, graduating from Alabama in 1998. Joel is a member of Strength & Connally, LLC, in Montgomery and Tuskegee. He provides general counsel to individuals and businesses, with a focus on commercial, financial and asset litigation. He has also developed a unique niche of pro bono work for wealthy people. Joel is married to Amy Connally, a lawyer with the Retirement Systems of Alabama. They have one son and are active in his school, their church, and various civic and charitable organizations. Joel is serving his second term as a bar commissioner for the 15th Judicial Circuit.
Brian Strength was born in Valley, Alabama. He received his bachelor's of science degree from Auburn University in 1994. In 1998, he graduated cum laude from The University of Alabama School of Law. Prior to starting his own firm in 2008, Brian worked for the law firm of Bradley, Arrant, Boult, Cummings primarily representing defendants in civil litigation. Brian also was a member of the Cochran Firm and served as managing attorney in its Tuskegee, Alabama office. Since graduating law school, his practice has focused exclusively on civil litigation, including products liability, employment, accidents involving large trucks, and wrongful deaths. He is a member of the Alabama State Bar, the Federal Bar Association and the American Bar Association.
William D. Scruggs, Jr., Service to the Bar Award
This award was created in 2002 in honor of the late Bill Scruggs, former state bar president to recognize outstanding and dedicated service to the Alabama State Bar. The 2023 recipient is Halron W. Turner. His son accepted the award on his behalf, as Hal was traveling during the time of the awards ceremony.
Graduated cum laude from the University of Alabama in August 1981.Graduated from the University of Alabama School of Law in May 1984. Admitted to the Alabama State Bar in September 1984. Admitted to practice before Fifth and Eleventh Circuit Courts of Appeal and the Southern, Middle, and Northern Federal District Courts of Alabama. Serves as managing partner of Turner, Onderdonk, Kimbrough & Howell, PA of Chatom, Alabama. Served as Assistant District Attorney for the First Judicial Circuit from 1984 until 2020. Served as Bar Commissioner for the 1st Judicial Circuit from 2013 to 2022.
Anthony "Tony" McLain Professionalism Award
The purpose of the J. Anthony "Tony" McLain Professionalism Award is to honor the leadership of Tony McLain and to encourage the emulation of his deep devotion to professionalism and service to the Alabama State Bar by recognizing outstanding, long-term and distinguished service in the advancement of professionalism by living members of the Alabama State Bar. The 2023 recipients of this award are Cole Portis and Maibeth J. Porter.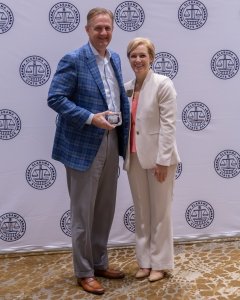 Cole Portis
serves as Beasley Allen Law Firm's Personal Injury & Products Liability Section Head. He began practicing law over 30 years ago because he enjoys problem-solving and helping others in the process.
Cole is a leader in the legal profession and community, daily exhibiting Beasley Allen's motto of "helping those who need it most." He served as Alabama State Bar President from 2016-2017, leading the association through a pivotal transition after ASB
General Counsel J. Anthony "Tony" McLain
passed away and executive director, Keith Norman, decided to retire. Cole has also served as President of the Montgomery County Bar Association (2022), Alabama Young Lawyers Association (2000-2001), Montgomery County Trial Lawyers Association (1999), Auburn University Bar Association (1999) and Montgomery County Young Lawyers (1993). In addition, Cole has served as President of the Jimmy Hitchcock Award, a prestigious award honoring Christian student-athletes in Montgomery, Alabama. Further, he serves on the Fellowship of Christian Athletes Board of Directors and the Trinity Presbyterian School Board of Trustees. Cole is currently a Morningview Baptist Church lay elder. A Martindale-Hubbell AV-rated lawyer, Cole is selected to the Midsouth Super Lawyers and Best Lawyers in America lists annually. He has also been selected to Lawdragon 3000, Lawdragon 500 Leading Plaintiff Consumer Lawyers, and National Trial Lawyers Top 100. Cole was a finalist for Public Justice's 2014 Trial Lawyer of the Year Award and was featured on the 2015 National Law Journal Plaintiffs' Hot List. In 2010, he was named Beasley Allen's Litigator of the Year.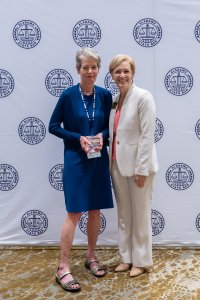 Maibeth J. Porter graduated from Vanderbilt Law School in 1980.She clerked for The Honorable Seybourn H. Lynne in the Northern District of Alabama. Maibeth then joined what is now Maynard Nexsen, where she continues to practice. Maibeth is a member of the Birmingham Bar Association, where she served as President and on the Executive Committee. With Labella McCallum, she successfully lobbied Ed Elliott, then BBA President, to create the Women Lawyers' Section and has served as a director. Maibeth has participated in the State Bar on numerous committees and as a Bar Commissioner for nine years, during which she came to know Tony and Leah McLain. Maibeth is humbled to receive this award. Maibeth is one of the State Bar's appointees to the Judicial Inquiry Commission.The State Bar Women Lawyers' Section previously awarded her its Susan Bevill Livingston Award. Maibeth is also Chair of the Alabama Supreme Court's Standing Committee on the Rules of Civil Procedure and a member of the American Law Institute and the International Academy of Trial Lawyers. Maibeth has been active in the Episcopal Church on the local, state, and national levels. She served two terms as Chancellor of the Diocese of Alabama and is a member of its Standing Committee and a lay reader at Cathedral Church of the Advent. Maibeth and her husband, Robert Eckinger, are the parents of three adult daughters—Helen, a lawyer; Virginia, a landscape architect; and Sarah, a photography editor for the New York Times.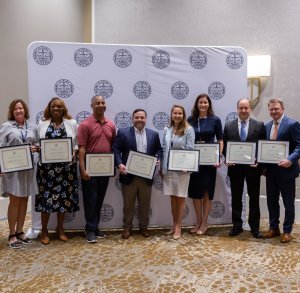 President's Award
The President's Award is presented to members of the bar who best exemplify the Alabama State Bar motto, "Lawyers Render Service." The recipients are chosen by the current bar president. The 2023 recipients, selected by 2022-2023 President Gibson Vance are:
Brannon Buck
Mark Boardman

J. Mark Debro

Felicia Long

Brett Holsombeck
Carmen Howell
Angela Kennedy
Elizabeth Smithart
PRO BONO AWARDS
Albert VreeLand Pro Bono Award
The Albert Vreeland Pro Bono Award is presented to an individual who demonstrates outstanding pro bono efforts through the active donation of time to the civil representation of those who cannot otherwise afford legal counsel and by encouraging greater legal representation in, and acceptance of, pro bono cases.
Tara Rose 
Tara Rose arrived in Alabama in 2015 after serving 10 years in the United States Air Force. She graduated Thomas Goode Jones School of Law in 2018. She began practicing law and partnering with a local attorney until 2022, when she established Rose Family Law. During this time, she remained actively engaged within the community by offering free legal counselling and volunteering with a local program that targeted at-risk youth.
Tara volunteers with both the Alabama State Bar Volunteer Lawyers Program and the Montgomery Volunteer Lawyers Program. Through these two programs Tara provided over 92 hours of pro bono legal assistance. She took 18 extended representation cases, many of which were contested family law matters, attended 12 counsel and advice clinics and 2 Lawyer for a Day in District Court clinics. In 2022 Tara received the Montgomery County Bar Association's Volunteer Lawyer of the Year award.
Law Firm Award – Bradley Arant Boult Cummings, LLP – Montgomery Office
Bradley's Montgomery office, was founded in 2000 to provide the firm with a presence in the state's capital. Bradley's attorneys in Montgomery uphold our reputation for maintaining the highest ethical standards while providing practical solutions to our clients' legal and business challenges. Like the entire Bradley law firm, the Montgomery office makes it a priority to contribute to the community. In 2022 Bradley attorneys provided 61 hours of pro bono service to the Montgomery Volunteer Lawyers Program and participated in 38 counsel and advice clinics. Bradley also hosts CLEs, including one in partnership with the YWCA of Central Alabama on obtaining protection from abuse orders. They also provide the Douglas Arant Public Interest Fellowship which allows a Bradley summer associate the opportunity to work with the public service organization of their choice for four of the 10 weeks they are employed with the firm. As stated by Peyton Faulk, Executive Director of the Montgomery VLP, "Bradley encourage their attorneys to tap into their passions and use their talents in a way that will make life better for the people and communities around them."
Mediator Award – Jon E. Lewis
Jon Lewis volunteers in the Jefferson County District Court's Friday Double Pro Se Docket Mediation Program. Jon also provides pro bono mediation services through the Alabama First Landlord Tenant Mediation Program. This program, which began during 2022, provides free mediation services to landlords and tenants for evictions, unlawful detainers and any landlord/tenant dispute. Judges Grant, Davis and Cook have ordered landlords and tenants to mediation in Jefferson County under the program. Jon is a regular pro bono mediator and has mediated 11 cases for 11 landlords and 21 tenants. He has been instrumental in promoting mediation awareness to mediators, attorneys and the public. He served as an instructor/panelist on three free webinars which were co-sponsored by the Alabama Center for Dispute Resolution and the Dispute Resolution Section of the Alabama State Bar.
Law Student Award – Anna M. Spidle
Anna just completed law school and is preparing to sit for the bar exam. She volunteered with the Montgomery County Bar Association Volunteer Lawyers Program during her second and third years of law school. In 2022 she spent 111 hours in district court docket clinics and assisted with several extended representation cases. Anna also assists with recruiting other law students to provide pro bono services through the MVLP.
Public Interest Attorney Award – Kelly F. McTear
Professor McTear has regularly earned the MVLP's Order of the Samaritan award for representation of indigent clients and was named a Fellow of the MVLP in 2021 for this work. Additionally, she has represented over 1000 indigent victims of domestic violence during her legal career, both at Legal Services Alabama and as the director of our law school's Domestic Violence Clinic. For the past two years, she has provided pro bono mediation services to Montgomery County's District Courts as director of our Mediation Clinic, which during that time provided pro bono mediation services in more than 125 cases. There has not been a time in Professor McTear's career when she was not providing assistance to indigent litigants.
In Fall 2023, Professor McTear is embarking on another huge project directed at providing services to indigent populations. In August 2023, after YEARS of advocacy, work, and planning, Faulkner Law will launch its Generational & Ancestral Property (GAP) Clinic. Professor McTear will be leading the effort to make a meaningful impact in the field of heirs property in Montgomery and throughout the Black Belt. This new project is a first-of-its-kind in Alabama, but Professor McTear has long advocated that this much needed area of legal service is a perfect fit for law student work.
WOMEN'S SECTION AWARDS
Maud McLure Kelly Award
Maud McLure Kelly was the first woman to be admitted to the practice of law in Alabama. In 1907, Kelly's performance on the entrance exam at the University of Alabama Law Department merited her admission as a senior, the second woman ever to have been admitted to the school.
Celia Collins
Celia Collins graduated from Randolph Macon Women's College and received her Law Degree from Vanderbilt University School of Law, after which she became the first woman associate to join Johnstone Adams and subsequently the first women partner. She is recognized in her practice areas of Employment and Labor Law by both Best Lawyers and Super Lawyers. She was also recognized by Super Lawyers in their 2022 Top 50 Women Mid-South List and by Best Lawyers on several occasions as Mobile's Lawyer of the Year in management side Labor Law, Employment Law and Employment Litigation. Throughout her career she has been committed to women issues in both her professional and community activities. On the professional level she served as Chair of the ASB Task Force on Women in the Profession and the Standing Committee on Women in the Profession, which evolved into the ASB's Women's Section. She currently serves on the Women's Section Executive Committee. Celia is a member of the Mobile Bar Association Women Lawyers, who honored her with their 2016 Trailblazer Award, and a Board member and previous officer of the National Conference of Women's Bar Associations. In the Community she has served as President of the YWCA, on the Board of the Women's Business Center and as Chair of a local women's political PAC. At the State Bar, Celia has served as a Bar Examiner, a Bar Commissioner, and as Chair of the Labor and Employment Section.
Susan B. Livingston Award
This award is presented by the Women's Section in memory of Susan Bevill Livingston who practiced law at Balch & Bingham. The criteria for this award are the following elements and nominations should include information and materials that reflect elements of a continual commitment to those around her as a mentor, a sustained level of leadership throughout her career, a commitment to her community in which she practices.
Leslie R. Barineau
Leslie graduated Magna Cum Laude from Cumberland School of Law and began her career at a small boutique law firm handling plaintiff's personal injury and workers' compensation cases as well as domestic and probate matters. After spending five years with this firm, she opened her own law firm – Barineau & Barineau. Leslie's dedication to the profession is evidenced by her extensive participation in national, state, and local bar activities as well as her continued involvement at Cumberland as an adjunct professor teaching workers' compensation. She strongly believes that participation in these organizations provides an opportunity not only to help others through the various programs, but it promotes camaraderie among the lawyers.
Currently she is President of the Alabama Law Foundation, in the American Bar Association House of Delegates as an Alabama State Bar delegate, and on various committees and sections with the Birmingham Bar Association, Birmingham Bar Foundation, and the Alabama State Bar. She has served as President with the National Conference of Bar Foundations and President of the Birmingham Bar Foundation. She served three terms as an Alabama State Bar Commissioner and was on the Birmingham Bar Association Executive Committee. She was instrumental in the establishment of the Solo/Small Firm Section of the Birmingham Bar Association, the Women's Section of the Birmingham Bar Association, and the Fellows Program for the Birmingham Bar Foundation. Leslie is a member of Canterbury United Methodist and served two four-year terms on the Board of Directors for the United Methodist Children's Home. Leading by example and garnering the respect of her peers, Leslie champions the importance of being involved to her colleagues. "It's what we must do for our profession." Leslie enjoys spending time with her son and his family, especially her granddaughter, Olivia.
Justice Janie L. Shores Scholarship
To encourage the next generation of women lawyers, the Women's Section of the Alabama State Bar established the Justice Janie L. Shores Scholarship Fund. Named in honor of the first woman to sit on the Supreme Court of Alabama, the scholarship is awarded to an outstanding woman who is an Alabama resident attending law school in Alabama.
Antoinette Richardson
Antoinette currently attends Birmingham School of Law and will finish out her first year in August 2023. Outside of school, she is a mother of two sons and employed full-time. During her spare time, she enjoys gathering for family functions, a game of bowling, or going to the movies. She is looking forward to completing her legal studies and pursuing her career in law.
Rolanda T. Turner

Rolanda Tina Turner is a rising 3L at Cumberland School of Law. She has been actively engaged in numerous leadership roles and organizations, including serving as the President of Cumberland Society of Arts, VP of Cumberland Health & Wellness Society, 1L Advisor for the Career Development Advisory Board, Section Leader (Race & Justice) for the Center for Children, Law, & Ethics, an Academic Success Advisor, an AccessLex Champion. She is also the founder of Cumberland Career Closet, as well as a
Scholar of Merit, and a member of various organizations
including Black Law Students Association and Women In Law. She earned her Bachelor of Science degree at the University of Alabama. She is a native of Pell City, Alabama where she graduated from Pell City High School.
ALABAMA LAWYER ASSISTANCE PROGRAM AWARD
Jeanne Marie Service Award
This award recognizes exemplary service to lawyers in need in the areas of substance abuse and mental health and is presented by the Alabama Lawyer Assistance Program Committee.
Elizabeth Young
Liz Young received her undergraduate degree in Political Science from Jacksonville State University. She attended Birmingham School of Law while also working for the State of Alabama as a sworn probation and parole officer. Liz passed the bar exam and began private practice in 2011.Because of her prior experience as a law enforcement officer, Liz began her career in criminal defense in which she still practices today. She has been recognized for her professional accomplishments in Birmingham Magazine, B- Metro Magazine, and Super Lawyers. In 2018, Liz expanded her practice and began representing police officers and firefighters involving employment issues that are specialized to first responders. She now represents some of the largest police and fire organizations in Alabama.
Hugh Nickson
Hugh Nickson received his undergraduate degree in Biology from Birmingham-Southern College. He attended the University of Alabama School of Law where he earned his Juris Doctor in 1995. He is a founder and managing member of Nickson Law LLC. He is member of the ALAP committee, and member of 5 sections of the Alabama State Bar. He is married to Christine Nickson, and they have two children, Isabel (19) and Hugh (18).
####
The Alabama State Bar (ASB) is the official licensing and regulatory organization of lawyers in Alabama. Since 1923, when the Alabama State Bar was created by an act of the legislature, ASB programs and activities have continuously served the public and improved the justice system. It is dedicated to promoting the professional responsibility and competence of its members, improving the administration of justice and increasing the public understanding of and respect for the law.
Media Contact: Melissa Warnke
Director of Communications, Alabama State Bar
(334) 517.2218 (c) | (256) 338.0621 (c)
melissa.warnke@alabar.org