8th Annual Alabama Legal Food Frenzy Underway
Published on April 18, 2023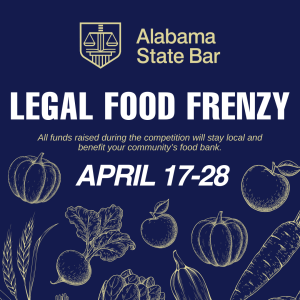 The 8th Annual Alabama Legal Food Frenzy is now underway through Friday, April 28, 2023. The annual two-week fundraising competition, created in partnership with the Alabama Attorney General, the Alabama State Bar, and Feeding Alabama, is open to everyone in the legal community. Firms and organizations compete to see which law firm, legal organization, and corporate/in-house counsel can have the biggest impact on hunger. Everything you raise stays LOCAL and benefits the regional food bank that serves your community.
Again this year, the competition is being held entirely online, through a virtual fundraising drive. The Legal Food Frenzy has its own user-friendly online fundraising platform that makes donating simple, allowing each organization or firm to create a team page.
BILLABLE HOUR CHALLENGE: State Bar President Gibson Vance is challenging Legal Food Frenzy participants to donate the equivalent of one billable hour to your food bank. We will recognize anyone who either makes a major donation or matches donations above $500 as a Legal Food Frenzy VIP.
You can participate by clicking on this link to register your time; or if your team has already registered, you can donate directly through your team page.
The lawyer, law firm, or legal organization that raises the most funds, per employee, will receive the Attorney General's Cup, with other honors to be awarded by category. Join together with Alabama's lawyers and legal organizations to help collect even more food and funds this year!