Alabama State Bar Celebrates Record-Breaking Fundraising Year for Alabama Legal Food Frenzy
Published on May 18, 2022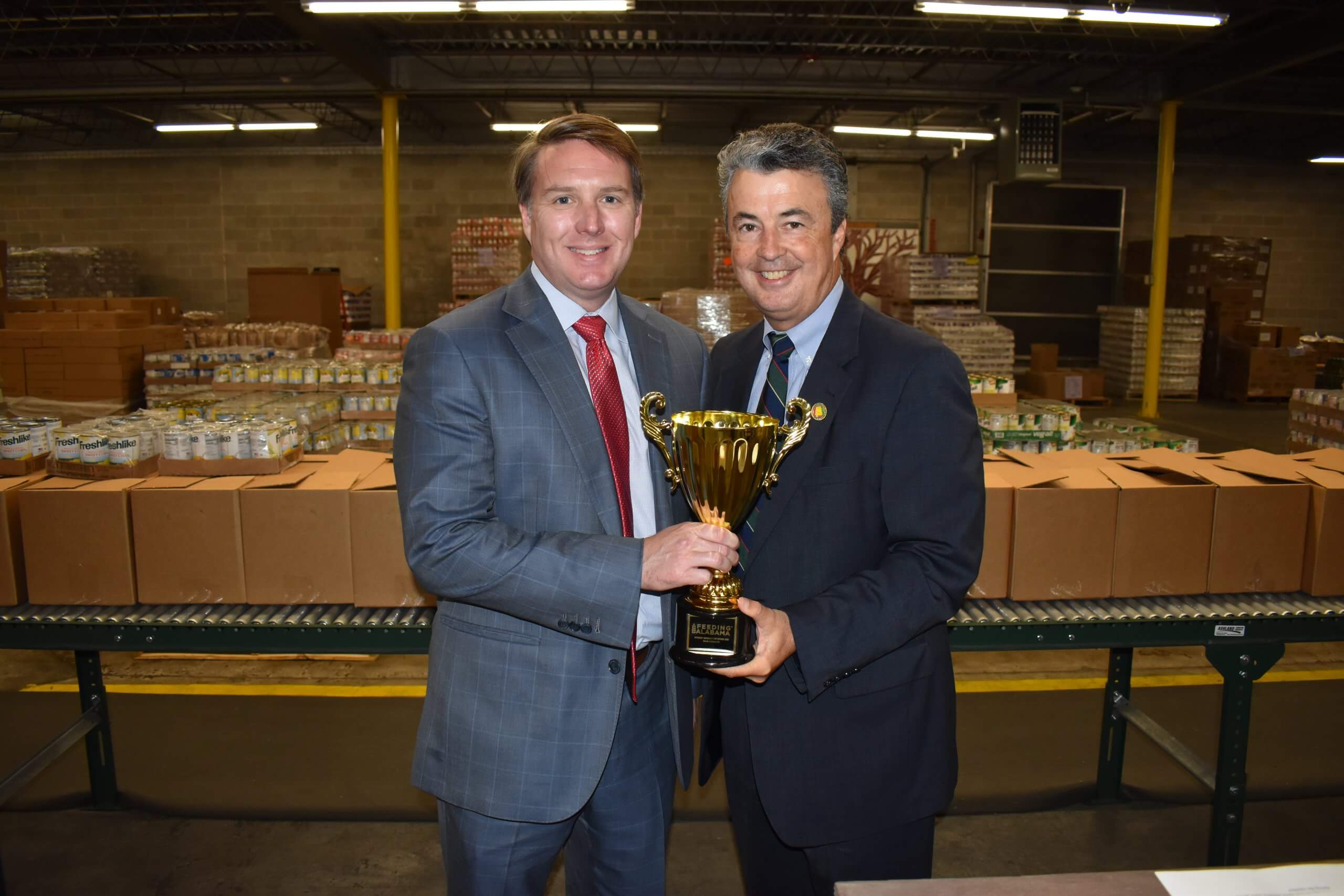 MONTGOMERY – Food banks around Alabama received a record-breaking boost from attorneys across Alabama. The 7th Annual Alabama Legal Food Frenzy, a statewide competition among law firms to benefit Alabama's regional food banks, yielded a total of $68,715, which equates to nearly 350,000 meals for the food insecure in Alabama. Like last year, the fundraiser was held virtually, with all donations being monetary, allowing the food bank to use its collective purchasing power to make the dollars raised go further.
Alabama State Bar Executive Director Terri Lovell joined with Alabama Attorney General Steve Marshall on Tuesday, May 17, 2022, to announce this year's winners and celebrate the fundraiser's success for Alabama's food banks and the populations they serve. The law firm or legal organization that donated the most per employee this year was Martin & Helms, PC in Huntsville. Clay Martin received The Attorney General's Cup on behalf of his firm for the third year in a row, with other honors to other firms awarded in categories based on the firm's size.
"The Alabama State Bar and its more than 19,000 members are focused on service. The opportunity to meet a physical need in our communities is so meaningful to us. Not only are we thankful to bring hope to those suffering from food insecurity in our state, but we also want to make sure our communities know that we are more than lawyers. This cause is important to us because we are caring, concerned neighbors who want to roll our sleeves up and serve," said Executive Director Terri Lovell.
"This year's total is the largest fundraising outcome the event has raised, and I think it's important that we congratulate the volunteer attorneys who worked on this committee for their success," said Attorney General Steve Marshall. "This event was started by my predecessor in partnership with the Alabama State Bar several years ago, and to see it now blossom in a way that nearly 1.4 million meals have been donated over the last seven years, that is outstanding."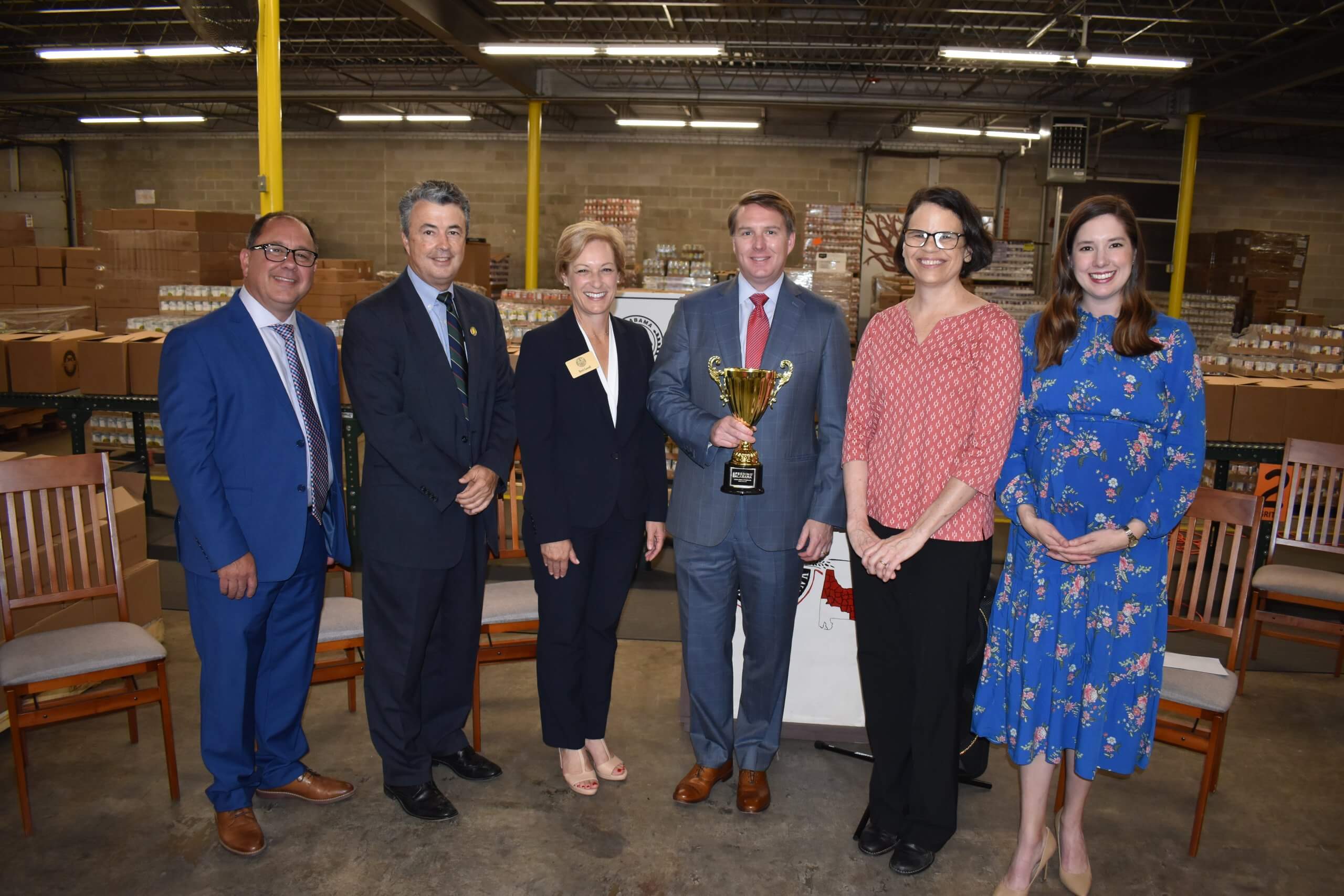 Attorneys Jordan Jenkins and Matthew Partner, both with Hill, Hill, Carter, Franco, Cole, & Black PC in Montgomery served as co-chairs of this year's annual food frenzy. Committee members were J. Pratt Austin-Trucks (Jacqueline Pratt Austin-Trucks), Meredith Carpenter (Meredith Carpenter Law), Carami Garrett (Hill Hill Carter Franco Cole & Black PC), Courtney Morman (Hill Hill Carter Franco Cole & Black PC), Tiffany Ray (Taylor Martino, PC), E. Nathan Harris (Abogados Centro Legal), and Hillary Campbell (Bradley).
In Alabama, as many as 400,000 children count on their schools for at least one meal per day. Competing firms help Feeding Alabama (formerly the Alabama Food Bank Association) provide nearly half a million meals to children in Alabama through the Summer Feeding Program.
The winners of the 7th Annual Alabama Legal Food Frenzy are:
Legal Organization: Offices of the Bankruptcy Administrator & Bankruptcy Trustees (Middle District)
($3,619 | 18,095 meals donated)
Medium Law Firm: Wallace Jordan Ratliff & Brandt
($4,838 | 24,190 meals donated)
Large Law Firm: Carr Allison – Birmingham
($8,368 | 41,840 meals donated)
Sole Proprietor: Dagney Johnson Law Group
($2,261| 11,305 meals donated)
AG Cup + Small Firm Winner: Martin & Helms P.C.
($4,000 | 20,000 meals donated)
The Alabama State Bar (ASB) is the official licensing and regulatory organization of lawyers in Alabama. Created in 1879, the Alabama State Bar became an integrated bar in 1923 by an act of the legislature. Since then, ASB programs and activities have continuously served the public and improved the justice system. It is dedicated to promoting the professional responsibility and competence of its members, improving the administration of justice and increasing the public understanding of and respect for the law.
Media Contact:
Melissa Warnke
Director of Communications, Alabama State Bar
(334) 517.2218 (o) | (256) 338.0621 (c)
melissa.warnke@alabar.org