Alabama State Bar Donates to Tennessee Tornado Relief
Published on March 11, 2020
MONTGOMERY, Ala – The Board of Bar Commissioners for the Alabama State Bar voted at its March board meeting to donate $1,000 to the Tennessee Bar Association to be directed towards relief efforts from the Mar. 3, 2020 tornadoes.
Alabama State Bar President Christy Crow asked for the board's support for the donation, and it was approved unanimously.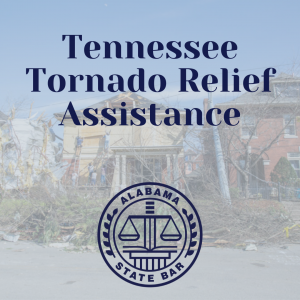 "We were sorry to learn about the tornadoes that ravaged the city of Nashville, and our thoughts are with all those impacted during this difficult time. As Alabamians, we certainly understand and sympathize with the devastation of tornado damage. Being our sister state, we hope this donation will help with your recovery efforts in a small way," said Crow.
The $1,000 check, at the request of the Tennessee Bar Association, was delivered to the Tennessee Legal Community Foundation, which will be distributed to partners in other affected counties.
You can view the letter sent from the Alabama State Bar to the Tennessee Bar Association here.

The Alabama State Bar (ASB) is the official licensing and regulatory organization of lawyers in Alabama. Since 1923, when the Alabama State Bar was created by an act of the legislature, ASB programs and activities have continuously served the public and improved the justice system. It is dedicated to promoting the professional responsibility and competence of its members, improving the administration of justice and increasing the public understanding of and respect for the law.
Media Contact:
Melissa Warnke
Director of Communications, Alabama State Bar
(334) 517.2218 (o) | (256) 338.0621 (c)
melissa.warnke@alabar.org