Alabama State Bar Features 'Salute to Veterans'
Published on November 11, 2020
Throughout the month of November, the Alabama State Bar will honor and recognize veteran lawyers in Alabama. A
Salute to Veterans page
 has been created on the bar's website, where we are collecting and sharing photos and service descriptions of members who have served in the U.S. military. In addition, the regular #MoreThanALawyer feature posts, which are shared every Friday on the Alabama State Bar's 
Facebook
 and Instagram pages, will instead spotlight these photos in a #SalutetoVeterans post during the month of November. We are extremely thankful for those who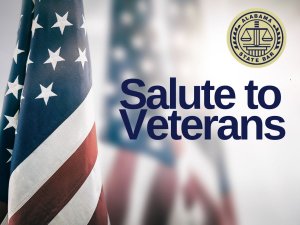 have served and continue to serve, and we appreciate their 
dedication to protecting the law and the country. 
>>View the Salute to Veterans page
We put out a call for these photos and service descriptions to all members through our weekly e-newsletter, The Scoop. If you would like to be included in our feature, it's not too late. Please email a photo and service description to Director of Communications Melissa Warnke.
####
The Alabama State Bar (ASB) is the official licensing and regulatory organization of lawyers in Alabama. Since 1923, when the Alabama State Bar was created by an act of the legislature, ASB programs and activities have continuously served the public and improved the justice system. It is dedicated to promoting the professional responsibility and competence of its members, improving the administration of justice and increasing the public understanding of and respect for the law.
Media Contact:
Melissa Warnke
Director of Communications, Alabama State Bar
(334) 517.2218 (c) | (256) 338.0621 (c)
melissa.warnke@alabar.org