Alabama State Bar License Plate Raises Money for Lawyers in Need
Published on November 16, 2020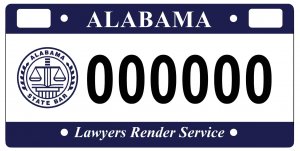 Montgomery, Ala. – The Alabama State Bar has created Lawyers Render Service, Inc. – a foundation to raise money to help lawyers in need who are facing medical crises or other life-altering situations. The Alabama Lawyers Care Task Force is promoting the sale of Alabama State Bar License Plates to raise money for the foundation.  You can look for more information about that in the coming weeks. Pre-commitment forms are already available here for those specialty Alabama license plates.
HELP US SUPPORT MEMBERS OF THE LEGAL COMMUNITY DURING THEIR TIME OF NEED.
Proceeds from the sale of this Alabama State Bar license plate will assist fellow members of the legal community who have experienced significant, potentially life-changing events in their lives. It will be available for fellow members in need and related bar activities that elevate the promotion of justice through a grant review process.
So, what's next? Complete your pre-commitment form today and help us reach our goal of 1,000 pre-orders by September 2021!
Spearheading these efforts are co-chairs Gibson Vance, Alabama State Bar Vice President, and Christy Crow, Immediate Past President.
"Do all the good you can, by all the means you can, in all the ways you can, in all the places you can, at all the times you can, to all the people you can, as long as ever you can," said Crow. "While I am not sure who first said this, it is often credited to John Wesley. I am sure that the Alabama State Bar is trying to live by this motto with its new non-profit, Lawyers Render Service, Inc.  This non-profit will give Alabama's legal community an opportunity to reach out in meaningful and compassionate ways to Alabama State Bar members who experience a catastrophic event, illness, or other personal crisis and reduce the financial burdens that cause additional stress to an already life-changing event."
As Crow pointed out, small steps result in big changes. "Do good today, and take a step toward helping your fellow lawyers today by committing to purchase the Alabama State Bar car tag."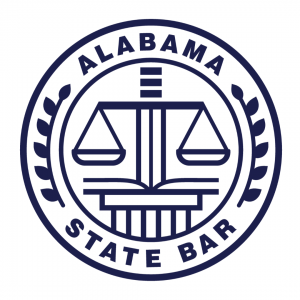 The Alabama State Bar (ASB) is the official licensing and regulatory organization of lawyers in Alabama. Since 1923, when the Alabama State Bar was created by an act of the legislature, ASB programs and activities have continuously served the public and improved the justice system. It is dedicated to promoting the professional responsibility and competence of its members, improving the administration of justice and increasing the public understanding of and respect for the law.
Media Contact:
Melissa Warnke
Director of Communications, Alabama State Bar
(334) 517.2218 (c) | (256) 338.0621 (c)
melissa.warnke@alabar.org