Alabama State Bar Mourns Loss of Past President Taze Shepard
Published on October 14, 2022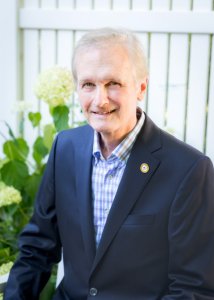 The Alabama State Bar mourns the loss of its past president, Tazewell T. Shepard III, "Taze," who passed away Monday morning after a courageous years-long battle with cancer. Our thoughts are with his family, especially his wife, Pam.
Shepard served as the 146th president of the Alabama State Bar from July 2021 to June 2022. He was also the 2022 recipient of the William B. "Bill" Scruggs, Jr. Award, which is given annually to an attorney for his or her outstanding and long-term service to the Alabama State Bar.
Prior to his years as president-elect and president, Shepard served two terms as a member of the Board of Bar Commissioners and was appointed vice-president of the Alabama State Bar in 2018-2019.
"Taze led with strength and passion. I've told many people that you'll never meet someone who loves the bar association more than Taze Shepard did," said President Gibson Vance. "Even in the most challenging of circumstances, we never heard Taze complain. Taze always showed an unwavering sense of dedication and service to the Alabama State Bar and the profession of law."
"Taze Shepard has been a real inspiration to all of us," said President Elect Brannon Buck. "We were so blessed by Taze, not because of all his accomplishments–and there are many, but because Taze reminded us of the power of gratitude."
Shepard exemplified servant leadership and worked tirelessly to leave the Alabama State Bar better than he found it. Of all his accomplishments, he was most proud of his work with the Solo and Small Firm (SSF) Section of the Alabama State Bar, which he chaired for two years. He was passionate about providing services and member benefits to help all attorneys succeed. He also was awarded the 2019 Albert Vreeland Pro Bono Award for his efforts on behalf of legal aid organizations.
Shepard was the senior partner at Sparkman, Shepard & Morris P.C. in Huntsville where he practiced for more than 40 years.
"We have been blessed by Taze's service to the Alabama State Bar for many years," said Executive Director Terri Lovell. "His perseverance and positivity through adversity was reflected in his belief that every day is a gift, and each day we all have the opportunity to leave a legacy."
During his swearing in ceremony as president, in July 2021, Shepard said, ""[In society], there is a lot of negativity and anger. And the truth is, we as leaders of the Bar can inject more kindness and more love, into what we do and how we treat people. If you want to be a better judge or a better lawyer, start by really working to be a better person."
Members of the Alabama State Bar are honored to call him a colleague and friend. We will greatly miss him, but his many achievements in our association and beyond will live on as a testament to his enormous impact.

####
The Alabama State Bar (ASB) is the official licensing and regulatory organization of lawyers in Alabama. Created in 1879, the Alabama State Bar became an integrated bar in 1923 by an act of the legislature. Since then, ASB programs and activities have continuously served the public and improved the justice system. It is dedicated to promoting the professional responsibility and competence of its members, improving the administration of justice and increasing the public understanding of and respect for the law.
CONTACT INFO:
Melissa Warnke
Director of Communications
Alabama State Bar
melissa.warnke@alabar.org
(334) 517-2218