ASB Position Available: VLP Intake Specialist
Published on June 1, 2021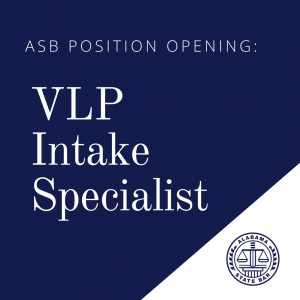 Title: Intake Specialist
Reports to: Director, Volunteer Lawyers Program (VLP)
Position Summary:
This is a professional position involving the tasks assigned by the VLP Director. It requires the ability to independently interview clients and identify potential legal issues. The majority of the Intake Specialists job will be client intake. Assists the VLP Director in hotline outreach and case follow up. The Intake Specialist will perform financial eligibility screening, core case determination and case file intake. They will refer callers with non-legal problems to appropriate social service agencies, and those with complex advocacy issues or who have problems requiring litigation to volunteer lawyers, private attorneys or Legal Services Alabama. The position requires the use of computers for accurate recording of client information such as eligibility, case notes, case management, and referrals.
A paralegal degree, paralegal certification or legal experience is required. Knowledge of the legal system, familiarity with legal case management software systems, Microsoft Word, Microsoft Excel and basic business mathematics is required. The successful candidate will have the ability to deal with clients under stress or in crisis, by retaining a calm, professional and positive demeanor. A timely and effective work ethic, within a closely supervised environment is also required.
The Intake Specialist is based in the Alabama State Bar building in Montgomery but must be able to travel throughout the State of Alabama, or elsewhere, as needed.
Salary is commensurate with experience; comprehensive and generous benefits package, including full health insurance coverage for employee, retirement plan, and holiday schedule.
TO APPLY
Applicants should send a résumé and cover letter describing experience, qualifications and interest in the position to Linda L. Lund, Director Volunteer Lawyers Program, Alabama State Bar, P. O. Box 671, Montgomery, AL 36101. You may also submit a PDF version of your résumé and cover letter describing experience, qualifications and interest in the position by email to linda.lund@alabar.org
The deadline for applications is July 2, 2021.