Alabama State Bar Welcomes New Employees
Published on October 6, 2020
Dawynrico McCain joined the Alabama State Bar as Investigator/Paralegal with the Office of General Counsel in February. McCain will assist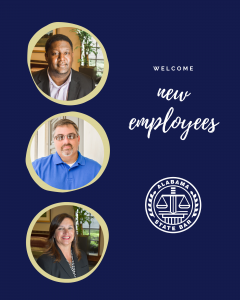 Assistant General Counsel Mark Moody in the handling of possible disciplinary and civil matters involving members of the Alabama State Bar. He will also serve as staff liaison to the Unauthorized Practice of Law Committee. McCain is a native of Greensboro and graduated Magna Cum Laude with a Bachelor's Degree in History from Stillman College in 2010. Additionally, he holds a Master's Degree in Justice and Public Safety, and an advanced paralegal certificate from Auburn University at Montgomery.
"We are thrilled to have Dawynrico join our staff," said Roman Shaul, general counsel for the Alabama State Bar. "He has an exceptional education background with both an undergraduate and master's degree in the legal field. He also has great experience as a long-time litigation paralegal."
Prior to his employment in the Office of General Counsel, McCain briefly served as a Paralegal for the Housing Authority of the Birmingham District. He has also worked for several private law firms and corporate in-house legal departments such as Allstate Insurance Corporation, Regions Financial Corporation, and Nathan & Nathan.
"Our office receives over 1200 complaints against lawyers every year," said Shaul. "It is important that we hire well trained, efficient professionals who can work in a high-volume environment."
In late July, Matt Mara joined the Alabama State Bar as Security and Building Superintendent. He oversees all building and facility matters, as well as security for our Bar staff and guests.
"Matt comes to us with a great deal of experience and relationships throughout the city," said Executive Director Phillip McCallum. "We are thrilled to add him to our Bar family."
Mara is a native of Montgomery and attended Troy University. He had a decorated career in law enforcement, including time as commander over the K-9 unit, Commander of the Domestic Violence Unit, and Executive Officer for former Montgomery Mayor Todd Strange. In his spare time Mara leads a charity called Cops for Christmas, and has done so since 2010. The charity's goal is to insure underprivileged kids are not forgotten at Christmastime.
Michelle Shaw also joined the bar late this summer as Executive Assistant to the Executive Director. Prior to joining the bar in August, Shaw worked at the Beasley Allen Law Firm where she provided support to lawyers in the Consumer Fraud & Commercial Ligation Section.
"We are excited to have Michelle join the Bar, as she will bring an enormous amount of enthusiasm and organization to our office," said McCallum. "She has already proved to be a team player and a real 'go-getter'."
Shaw was born in Oxford, Alabama, but has called Montgomery home most of her life.  She supports her community by serving on the Episcopal Church Women's Board at St. John's Episcopal Church, and the Junior League of Montgomery. She and her husband, Casey, live in Millbrook. They have two daughters and one dog and enjoy spending time with family and friends.