Birmingham Attorney Bob Methvin, Jr. Begins Term as President-Elect of Alabama State Bar
Published on August 29, 2019
MONTGOMERY – Robert G. "Bob" Methvin, Jr., the founding shareholder of Methvin, Terrell, Yancey, Stephens & Miller P.C., has begun his year of service as President-Elect of the Alabama State Bar. Mr. Methvin was installed during the Bar's annual meeting in Point Clear in July. Following his year as President-Elect,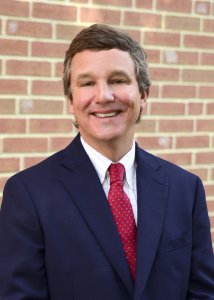 he will become President of the bar in June 2020 after current President Christy Crow completes her term.
A native of Eufaula, Methvin attended the University of Alabama, graduating in 1991 with a degree in Finance. He graduated from Cumberland School of Law in 1994.
With more than 25 years of experience in civil litigation, Bob continues to represent individuals and small businesses across the nation in an array of litigation matters, including business disputes, complex litigation, class actions and individual cases often involving insurance matters, contractual disputes and claims of fraud and deceptive business practices. Bob is also a registered mediator with the Alabama Center for Dispute Resolution and regularly assists Alabama attorneys and their clients in this capacity.
Bob has been active with the Alabama State Bar for many years. He has served as President of the Young Lawyers Section and served as a Bar Commissioner for the 10th Judicial Circuit for eight years. He currently serves on the Executive Council, the Board of Directors of the Alabama Bar Foundation, the Finance & Audit Committee, the Pro Bono Committee, and the Personnel Committee. He has served in the past on numerous committees, including the Judicial Liaison Committee, the Disciplinary Panel, Local Bar Committee, Bench and Bar Relations Task Force, Unauthorized Practice of Law Committee, Member Benefits Committee, 19th Amendment Centennial Celebration Task Force and Pro Bono Innovation Task Force.
Bob was part of Class Two of the Leadership Forum and was the 2011 recipient of the Alabama State Bar President's Award for Meritorious Service. He is also actively involved in the Birmingham Bar Association and is a former member of the Board of the Volunteer Lawyers Program in Birmingham and remains committed to its mission to provide free legal representation to the poor.
Bob works with several organizations to raise awareness of and support for those with cystic fibrosis, including founding and serving as chair of the Board of Cystic Fibrosis-Hope for Alabama, a local charity assisting low income families with children suffering from cystic fibrosis. He has served as the chair of the Cystic Fibrosis Foundation for Alabama and on the advisory board for Laps for CF.
Other volunteer works include serving on the board of Bigtime Ministries, which is dedicated to teaching children Christian principles, and working with the Jones Valley Teaching Farm, an active farm in downtown Birmingham providing inner city students with hands-on food and nutrition education.
Bob and his wife, Lee, have three daughters, Hope, Kate and Laine. He and his family are active members of Saint Luke's Episcopal Church.
Alabama State Bar 2019-2020 Executive Council
• President: Christy Crow (Union Springs)
• President-Elect: Bob Methvin (Birmingham)
• Vice President: Rebekah Keith McKinney (Huntsville)
• Secretary: Phillip McCallum (Alabama State Bar)
• Executive Council: Diandra Debrosse (Birmingham)
• Executive Council: Cliff Mendheim (Dothan)
• Executive Council: George Parker (Montgomery)
• Immediate Past-President: Sam Irby (Fairhope)
• Young Lawyers' Section President: Robert Shreve (Mobile)
• Ex Officio: Glenda Freeman (Birmingham)
Media Contact: Melissa Warnke
Director of Communications, Alabama State Bar
(334) 517.2218 (c) | (256) 338.0621 (c)
melissa.warnke@alabar.org
The Alabama State Bar (ASB) is the official licensing and regulatory organization of lawyers in Alabama. Since 1923, when the Alabama State Bar was created by an act of the legislature, ASB programs and activities have continuously served the public and improved the justice system. It is dedicated to promoting the professional responsibility and competence of its members, improving the administration of justice and increasing the public understanding of and respect for the law.