Chief Justice Tom Parker Designates October as Pro Bono Month in the Alabama Judiciary
Published on September 25, 2023
MONTGOMERY – Alabama Supreme Court Chief Justice Tom Parker issued an order designating October 2023 as Pro Bono Month in the Alabama Judiciary. His order recognizes the valuable contributions made by attorneys offering pro bono services throughout the year and encourages pro bono participation across the state to address the legal needs of low-income Alabamians. In addition, Parker challenged all attorneys to abide by both the letter and spirit of Rule 6.1 by providing pro bono service.
Alabama State Bar President Brannon Buck said, "We send our humble thanks to Chief Justice Parker for recognizing all of the amazing work members of the Alabama State Bar do. One of the bar's goals within our new strategic plan is to improve access to justice for all Alabamians. We're proud of the work volunteer lawyers do to amplify this mission by providing legal representation to those who would otherwise, have no voice."
Buck also encouraged lawyers who aren't already part of a local volunteer lawyer program to consider joining, or sign up to be a part of Alabama.FreeLegalAnswers.org – which is an easy way to volunteer your time anytime, online.
This year marks the 15th annual Pro Bono Month Celebration, a coordinated statewide effort to showcase the impact pro bono lawyers make to the nation, its system of justice, its communities and, most of all, to the clients they serve. Although statewide in breadth, this celebration provides an opportunity for local legal associations across the State to collaboratively commemorate the contributions of lawyers to their communities.
Throughout the month, the Alabama State Bar will join together with judicial circuits, counties, cities, bar associations, and law schools across the state for special CLE programming, recruitment drives, legal advice clinics, and a pro bono month book club.
Learn more about Pro Bono Month and view a list of events here.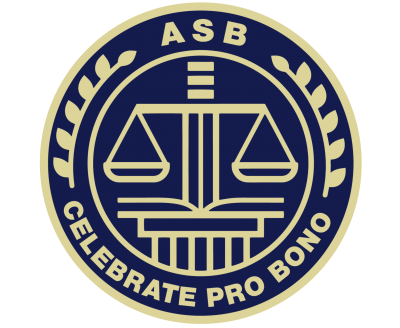 The Alabama State Bar (ASB) is the official licensing and regulatory organization of lawyers in Alabama. Since 1923, when the Alabama State Bar was created by an act of the legislature, ASB programs and activities have continuously served the public and improved the justice system. It is dedicated to promoting the professional responsibility and competence of its members, improving the administration of justice and increasing the public understanding of and respect for the law.