FROM THE ALABAMA LAWYER: End of an Era - The Retirement of Bilee Cauley
Published on July 21, 2021
By Justice Michael F. Bolin
The Alabama appellate courts recently experienced the end of an era upon the retirement of Bilee Cauley as the reporter of decisions on December 31, 2020. Tasked with ensuring that the opinions of our appellate courts are accurately reported, the reporter also serves in a less publicized role as the courts' legal editor, advising the justices, judges, and their staffs on the proper use of grammar and punctuation, editing court rules and amendments thereto, and last, but probably most importantly, offering input and advice on drafts of opinions. Needless to say, it is a job that requires the complete trust of the members of the courts, which Bilee earned along with their respect and friendship.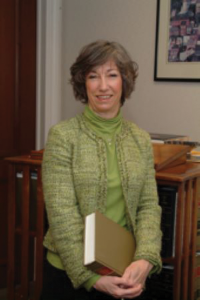 Bilee was appointed as the courts' first assistant reporter of decisions in 1989, and she assumed the mantle of reporter of decisions, one of only four over the course of the last century and the first woman to hold the position, in 2001. During her nearly 20-year tenure as reporter, Bilee oversaw the publication of 164 volumes of the Alabama Reporter.
No doubt, we could fill up an entire volume of The Alabama Lawyer with fond remembrances of Bilee and her service, but I hope a few words from several friends and former colleagues will suffice to show what she has meant to the courts and how much she will be missed.
As former Associate Justice Champ Lyons observes, "[t]he task of serving as the Supreme Proofreader for Supreme Court Justices, a class of people not known for their reticence or lack of self-confidence, is not an easy one. It takes a very gentle touch while wielding a skilled, sharp pen. Bilee is blessed with both talents. I can remember her soft and cheerful presence and the cautious question, 'Is that really what you mean to say?' More often than not the answer was, 'Not really.' A stronger opinion would result. I could go on, but I am becoming a bit apprehensive over the prospect of her smiling to herself as she muses over my choice of words en route to pursuit of perhaps a better way to express these thoughts."
Describing one of his first interactions with Bilee after reviewing her editorial comments, former Associate Justice Bernard Harwood fondly recalls, "I argued for a relaxation of the formal rules of grammar and syntax …. I can't recall these years later the actual details of the calmly reasoned tutorial Bilee gave me on why the revisions she'd made should be adopted, but she won me over completely with her great command of proper English composition and established rules of grammar and punctuation, all so diplomatically explained. I came over the years to appreciate that every change she suggested served to make the meaning clearer and more grammatically coherent. She never proposed anything to alter the sense or effect of an opinion, but she sure knew how to revise in a way that got the wording just right. She was a marvelous resource for the Court for clear and correct expression."
Former Associate Justice Tom Woodall recalls Bilee's skills and personality similarly: "The reporter must polish and refine an opinion of the Court without affecting the substance of the opinion or unduly irritating its author. Bilee was always able to accomplish this daunting task with kindness and good humor. Although she had to be a critical reader, Bilee never criticized an opinion. Instead, through just the right mixture of corrections, comments, suggestions, questions, and discussions, she improved every opinion she reviewed. By doing so, Bilee obviously enhanced the quality of the Court's work product and, in the process, made us all better writers. Bilee, thank you for being our editor and, at the same time, becoming a friend."
Perhaps, though, Jean Brown, commissioner of the Alabama Department of Senior Services and a former associate justice, sums up Bilee's unique contributions most succinctly: "I was acutely aware that, in some ways, our decisions were like paintings–once we released them and the opinion became final, there was no going back to improve a brush stroke here or there. Bilee made us all look like accomplished artists."
I would be remiss if I did not add that I concur completely and wholeheartedly with the above comments and opinions of Justices Lyons, Harwood, Woodall, and Brown with regard to Bilee. Her abilities, intellect, and integrity pale only in comparison to her kind and gentle nature.
I first met Bilee in January 2005 as a new justice on the court. I began my tenure by assuming that I knew everything and would be completely self-sufficient as an author of opinions. Although I was surrounded by quality lawyers, I decided that I would research and write my first opinion on my own. So I began and finished my work after a couple of weeks. After circulating it and obtaining the votes of a majority of the court, I submitted it to my judicial assistant to prepare it for release. A few days later, she gave it back to me with, as she put it, some "suggested Bilee changes" for my review. I looked at my opinion, and I don't think that there was a single paragraph without pencilled-in, squiggly, and unintelligible punctuation marks and suggestions. I had no idea what these marks meant, so I asked my assistant to give me two copies of the opinion, one as originally drafted and the other with Bilee's suggested changes. Needless to say, I was at least bright enough to admit that I had a lot to learn, and I wisely chose the Bilee version.
I cannot imagine how any one person could ever juggle proposed opinions from nine justices and 10 judges of the intermediate appellate courts each week, with a great majority of these jurists expecting their opinions to be released the very next Friday. But Bilee did it as our reporter, week after week, for over two decades, always with a smile.
Although Bilee loved her work, she was never defined by it, which is why I am confident she will prosper in retirement. Raised in Pittsburgh, Pennsylvania, Bilee attended Eckerd College in St. Petersburg, Florida, where she earned an undergraduate degree in English literature and met her husband of 41 years, Wendell Cauley, a well-known and well-respected attorney in his own right, who tragically passed away in 2013. Before embarking on her own legal career, Bilee was an English instructor at the University of Alabama while Wendell attended law school. Bilee followed in Wendell's footsteps, graduating from the Thomas Goode Jones School of Law, where she was awarded the James J. Carter Award for Scholarship for maintaining the highest grade-point average in her class. Even back then, she was usually the smartest person in the room!
Shortly after joining the court, I attended a banquet and, by chance, was seated next to Wendell and Bilee. For those of you who knew Wendell Cauley, you know that he was a lawyer's lawyer, and the three of us became very good friends that night. Over the years, I realized what everyone who knew them thought about Bilee and Wendell–they were made for each other, this Yankee girl and this Southern boy.
Bilee and Wendell loved to travel together, often accompanying each other to work conferences, and they found time to relax together in such varying locales as Disney World, Hawaii, and many places in between. Bilee is also fond of exotic cruises, having explored the eastern Caribbean Sea, the Mediterranean Sea, and the Danube River. Although COVID-19 has interfered with any immediate plans, I know she looks forward to many more years of globe-trotting with friends and family.
Those of you who know Bilee also know that she is an avid cyclist who has competed at several Senior Olympics, medaling in several events. She has toured Maine by bicycle during the fall, leaf-changing season, has ridden the Natchez Trace in Mississippi, and hopes to continue her two-wheeled adventures cycling across Europe. Her longtime, valued administrative assistant, Terri Vaughn, loves to remind Bilee of the 200-mile bicycle trek Bilee and her best friend took from Montgomery to Destin, not realizing that their overnight pit stop was in a dry county in south Alabama. Needless to say, they appreciated their arrival in Destin that much more the next day.
Realizing early that all of us retire someday, Bilee anticipated that, and, as her predecessor did for her, she has trained her longtime assistant reporter of decisions, Sean Blum, to succeed her. Bilee always had the welfare of the appellate courts uppermost in her professional mind, and her legacy will live on through Sean.
A lover of the beach, Bilee plans to spend much of the coming years on the Gulf coast, listening to her favorite musician, Jimmy Buffett, and entertaining her friends and family. I feel confident speaking for the many court members she has worked with over the years when I fondly wish her nothing but the best as she adjusts to her "changes in latitudes, changes in attitudes."