FROM THE ALABAMA LAWYER: The Pomeroy Markers
Published on March 22, 2022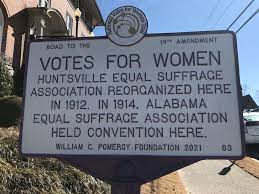 In 2021, six sites in Alabama were chosen by the William G. Pomeroy Foundation to receive commemorative historic Votes for Women markers for the National Votes for Women Trail.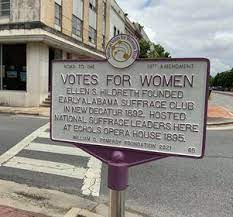 The historic YMCA building in Huntsville, built in 1910, was honored for its role in hosting the re-organizational meetings of Huntsville Equal Suffrage Association in 1912 and the annual convention of the Alabama Equal Suffrage Association in 1914.
Decatur, also the site of a Pomeroy marker, had the first Woman's Suffrage club in Alabama, founded in 1892 by Ellen S. Hildreth, and hosted Susan B. Anthony and Carrie Chapman Catt as speakers at the Echols Opera House in 1855. The first woman from Alabama to run for Congress, Lelia Seaton Edmondson, was also from Decatur.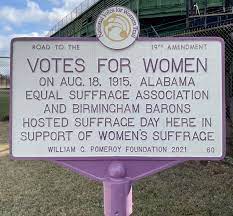 Birmingham received a Pomeroy marker at Rickwood Field, where the Birmingham Barons, along with the Alabama Equal Suffrage Association, hosted a Suffrage Day on August 18, 1915 at the field during a women's baseball game before the game between the Barons and the Chattanooga Lookouts.
Selma will be site of a Pomeroy marker to honor the Selma Suffrage Association, which, in 1910, created, along with the Birmingham Equal Suffrage League, a statewide organization, the Alabama Equal Suffrage Association, which hosted its first annual convention in Selma in 1913.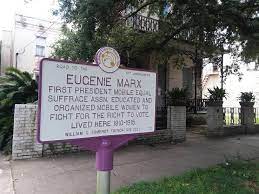 Mobile received a Pomeroy marker, having been the home of the Mobile Equal Suffrage Association, whose first president, Eugenie Marx, who published the poem entitled "Battle Song of the Marching Women" which was published in The Birmingham News.
Tuskegee will also be the site of a Pomeroy marker to honor Adella Hunt Logan, who served as a suffrage leader for the Tuskegee Women's Club and worked at Tuskegee University.