FROM THE ALABAMA LAWYER: Women Lawyers in the Alabama Women's Hall of Fame
Published on March 22, 2022
By Rhonda P. Chambers
The Alabama Women's Hall of Fame (AWHF) was stablished in 1970. It recognizes women native to or identified closely with Alabama who have made significant contributions on a state, national, or international level. Notable inductees include Helen Keller, Julia Tutwiler, Rosa Parks, Harper Lee, and Coretta Scott King. Of the 98 women in the AWHF, five were lawyers. Remarkably, when most became lawyers, women still could not vote or serve on a jury.[1]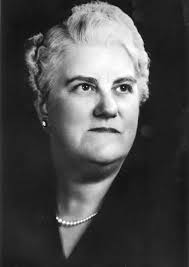 Maud McLure Kelly[2]
Maud McLure Kelly's father was a lawyer and served as a state legislator. Kelly "read law" under her father's tutelage while working as a stenographer. In 1907, she took the entrance exam for the University of Alabama's Law Department and scored high enough to gain placement in the senior class. Although the school had opened its doors to women more than a decade earlier, Kelly was only its second female student. She graduated third in her class in 1908.
After graduation, it was uncertain whether Kelly could practice law, as the Code of Alabama stated that anyone who presented "his" diploma could try cases. Fortunately, a law school classmate of Kelly's, who also was a state legislator, rewrote the bar admissions statute so women could present credentials. Over strong opposition, but in time for Kelly's graduation, the bill passed, and Alabama's law was recast to read "his or her diploma."
In 1967, Kelly summarized her life and work for a newspaper article, in which she stated "[t]he only thing of which I am very proud is that I opened the door to the active, actual practice of law … [in Alabama] to women. All other things I did were minor." Of her law practice, Kelly said, "I thought of the women who would come after me …. I tried to conduct myself so things would be easier for them."
Maud McLure Kelly died in 1973 and was inducted into the AWHF in 1990.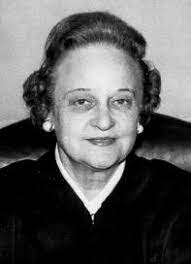 Annie Lola Price[3]
Annie Lola Price was born in Cullman and attended Athens College. She worked in a law office in Cullman as a secretary, and after "reading the law," passed the Alabama bar exam in 1928. Price practiced law in Cullman and worked as a court reporter from 1935-1947. When Big Jim Folsom was elected governor of Alabama, Price became his assistant legal advisor. Three years later, she became the first woman to serve as legal advisor to an Alabama governor.
In 1951, Governor Folsom appointed Price to the Alabama Court of Appeals at a time when women still could not serve on juries. Opposition over Price's appointment was so great she declined a public investiture ceremony. For the first 15 years of her service, Judge Price reviewed lower court decisions despite being ineligible to serve on the juries making those decisions. She was elected to four consecutive six-year terms and became presiding judge. When the Alabama Court of Criminal Appeals was established in 1969, she became its first presiding judge.
Judge Price died June 18, 1972 at age 69. She was inducted in the AWHF in 1976.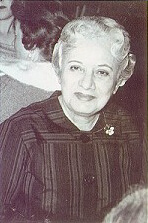 Rosa Gerhardt[4]
Rosa Gerhardt began her career in the legal profession working as an assistant for a prominent Mobile lawyer who encouraged her to go to law school. Gerhardt followed his advice and enrolled at Cumberland School of Law (back when it was still in Tennessee), where she graduated with highest honors in 1930. After passing the Alabama bar exam, she practiced law in Mobile.
In 1945, Gerhardt used her legal skills and became a federal court reporter. That job gradually grew into a full-time position at the expense of her law practice. As the official reporter for the federal court, she sat through countless hours of trial, taking down courtroom testimony word-for-word in shorthand. Soon, young lawyers and even judges sought her for advice. Gerhardt earned the respect and admiration of her peers. In 1947, she was elected president of the Mobile Bar Association, becoming the first woman president of a bar association in Alabama.[5]
Gerhardt died in 1973. She was inducted into the AWHF in 2004.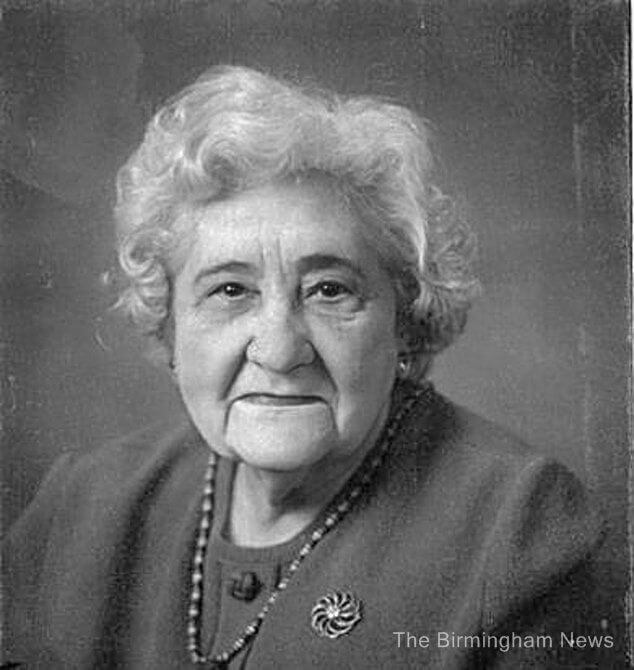 Nina Miglionico[6]
Nina Miglionico, known by everyone as "Miss Nina," was born in Birmingham to Italian immigrants, worked in the family delicatessen, and studied piano. After graduating from Woodlawn High School (where she was twice double promoted), she obtained her undergraduate degree from Howard College in 1933. She then enrolled at the University of Alabama School of Law, where she was the youngest member of her class and only one of four female students.
Miss Nina graduated from law school in 1936. The early days after graduation were a struggle because law firms were not hiring women. "The only offer for the young, short, female, Italian, Catholic attorney with a difficult-to-pronounce last name was that of a [legal] secretary at $15 per week, if she could type and learn shorthand."[7] Undeterred (and refusing to learn shorthand), she opened her own law practice in Birmingham. Working diligently to build her practice meant handling criminal cases, which required that she visit clients in jail. Her mother would say, "Nina, a lady doesn't go to the jailhouse," to which Miss Nina would reply, "Mother, I'm not a lady; I'm a lawyer."
Miss Nina was particularly interested in women's issues. Her political activism over the years included advocating that women be allowed to serve on Alabama juries, improving the parole system and prison conditions, improving child labor conditions, revising the probate laws of descent and distribution to provide women with the same rights as men, and eliminating the poll tax. She was appointed by President Kennedy to the President's Commission on the Status of Women that recommended passage of the Equal Pay Act of 1964 and other means to reduce gender bias in the workplace.
In 1963, Birmingham was in the midst of great change, including a new form of government that opened the opportunity for Miss Nina to run for a seat on the newly-established Birmingham City Council.[8] She campaigned against organized opposition from the Ku Klux Klan and the White Citizens' Council, who faulted her support for integration and reconciliation and vilified her Catholicism and Italian ethnicity. But she won the seat and became the first woman elected to Birmingham's city government. Miss Nina supported racial reconciliation in the city, enjoyed biracial political support, and worked with other like-minded members of the council to rescind Birmingham's segregation ordinances. However, her support of women's rights and progressive views on race also made her a target for extremists. Besides numerous phone threats, an undetonated bomb was found at her home in 1965, and a cross was burned in her yard in 1974.
Practicing law full time while serving as a part-time city official was a difficult challenge, but Miss Nina did it well. She served five terms on the city council until her retirement from politics in 1981, having served as president of the council from 1978 to 1981. In the auditorium where the city council met, a slogan on the wall read "CITIES ARE WHAT MEN MAKE OF THEM." Miss Nina suggested that the sign be changed to be more inclusive, but was told a change would be too expensive. Miss Nina then suggested the city could remove the N from "MEN" and turn the M upside down to serve as a W, so it would read "CITIES ARE WHAT WE MAKE OF THEM." Upon her retirement, the correction was made, and the city presented Miss Nina with the extra N.
Miss Nina received the American Bar Association Margaret Brent Women Lawyers of Achievement Award in 1996 and the Alabama State Bar Women's Section Maud McLure Kelly Award in 2004. In 2006, the Women's Lawyers Section of the Birmingham Bar Association established the Nina Miglionico Paving the Way Leadership Award to recognize leaders who have actively paved the way to success and advancement for women lawyers. Miss Nina continued to work as an attorney with her law partner and friend, Sam Rumore, until her death at 95 in 2009.
She was an attorney for 73 years, making her the longest-practicing female attorney in Alabama history. She was inducted into the AWHF in 2012.
In October 2015, the City of Birmingham honored Miss Nina with a bronze statue in Linn Park.[9] The statue is of a small, diminutive woman, sitting in a chair with a law book, keeping a watchful eye over the city hall building. "Though short of stature, Miss Nina was a giant in the history of Birmingham…. Admired by her peers and beloved by her fellow citizens, Miss Nina was indominable." In 2016, Miss Nina was also recognized in a biographical documentary film. The film, Stand Up, Speak Out – The Nina Miglionico Story, was produced and directed by fellow Birmingham attorney Jenna Bedsole.[10]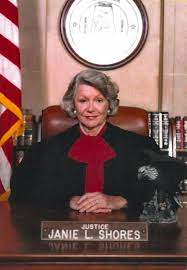 Justice Janie Ledlow Shores[11]
Justice Shores was born in Butler County in 1932.
The day after graduating from high school in April 1950, Shores caught a bus to Mobile looking for a job. Proficient in shorthand and typing, she immediately found work as a legal secretary to Vincent F. Kilborn, Jr., who later encouraged her to pursue higher education, including law school.
Shores attended Judson College and other institutions before entering the University of Alabama School of Law as one of five female students. As a law student, she put her shorthand skills to good use by taking down every word spoken by her law professors.[12] In addition to being editor of the Alabama Law Review, Shores graduated first in her class, with honors, in 1959.
After law school, she clerked for Justice Robert Simpson of the Alabama Supreme Court before entering private practice and serving as legal counsel for Liberty National Life Insurance Company. In 1964, she joined the faculty of Cumberland School of Law as its first female professor. She was the first full-time female law professor in Alabama and among the first five full-time female law professors in the entire southeast.
In 1974, Shores was elected to the Alabama Supreme Court, making her the first woman elected to any state's highest court. She served there until she retired in 1999.
In 1993, her friend, U.S. Senator Howell Heflin, recommended Justice Shores to President Bill Clinton for nomination to the U.S. Supreme Court, a seat ultimately filled by Justice Ruth Bader Ginsberg. In her autobiography, Just Call Me Janie,[13] Justice Shores says she was only "considered for a moment," but President Clinton was so impressed with her that he appointed her to the State Justice Institute, a private nonprofit entity focused on improving the administration and quality of state courts. When Justice Ginsburg spoke at the 2004 Albritton Lecture at the University of Alabama, she remarked that "[b]rave women like Justice Shores … helped to advance the end of days when women appeared on the bench as one-at-a-time curiosities."[14] When Justice Shores received the Maud McLure Kelly Award in 2002, Senator Heflin remarked that she "never lost sight of the fact that she should eliminate barriers to equal opportunity for women."
Justice Shores died at her home in Baldwin County on August 9, 2017. She was inducted into the AWHF in 2020. Her induction speaker was one of her former law clerks, Leila Watson.
Conclusion
Maud McLure Kelly, Annie Lola Price, Rosa Gerhardt, Nina Miglionico, and Janie Ledlow Shores – while they had to open their own doors – paved the way to success and advancement for women lawyers who followed them. These five women lawyers inspired future generations of women to choose law as a profession. They all had roles in who we are today as women lawyers in Alabama.
Endnotes
[1] On August 18, 1920, 36 states ratified the Nineteenth Amendment giving women the right to vote. However, Alabama did not ratify the Nineteenth Amendment until September 8, 1953. And women could not serve on juries in the state court until 1967. In 1966, a three-judge U.S. District Court serving the Middle District of Alabama made a historic decision: It unequivocally declared unconstitutional the Alabama law that barred women from serving on juries concluding that women in Alabama have a constitutional right not to be excluded from jury service. White v. Crook, 251 F. Supp. 401, 410 (M.D. Ala. 1996). In 1967, the Alabama Legislature wisely switched rather than oppose the federal decree: It amended the law to make jury duty the civic obligation of all its citizens.
[2] "Maud McLure Kelly" (http://www.awhf.org/kelly.html).
[3] "Annie Lola Price" (http://www.awhf.org/price.html).
[4] "Rosa Gerhardt" (http://www.awhf.org/gerhardt.html).
[5] To put Gerhardt's achievement in perspective, the first woman president of the Birmingham Bar Association was elected 50 years later in 1997. The first woman president of the Alabama State Bar was elected in 2010.
[6] "Nina Miglionico" (http://www.awhf.org/miglionico.html).
[7] Samuel A. Rumore, Jr., Profile of Nina Miglionico, Ala. Law. 234 (May 1992).
[8] The Birmingham City Council was formed in April 1963 by the passage of the Mayor-Council Act of 1955, which replaced the former Birmingham City Commission.
[9] https://bhamnow.com/2016/11/30/birminghams-miss-nina/.
[10] "The Accidental Filmmaker – Attorney Jenna Bedsole Found Inspiration in a Pioneering Lawyer's Story," B-Metro Magazine, Aug. 4, 2019.
[11] "Janie Ledlow Shores" (http://www.awhf.org/shores.html).
[12] Her typed notes were so good that she was once accused of cheating when she wrote exam answers in a professor's exact words. Her notes were later sold by the law school bookstore and titled "Janie's Summaries." For years after she graduated, countless students insisted they succeeded because they relied on her notes.
[13] The Senior Lawyers Division of the American Bar Association established the Women Trailblazers Project to capture the oral histories of women pioneers in the legal profession memorializing their stores in their own voices and preserving their experiences and observations for future generations. Justice Shores gave nine interviews in 2010 and 2011. These interviews led to her autobiography Just Call Me Janie: The Unlikely Story of the First Woman Elected to Alabama's Supreme Court (2016).
[14] Ruth Bader Ginsburg, 2004 Albritton Lecture: Women's Progress at the Bar and on the Bench: Pathmarks in Alabama and Elsewhere in the Nation, 56 Ala. L. Rev. 1, 5 (2004).