Gibson Vance Begins Term as President-Elect of Alabama State Bar
Published on July 23, 2021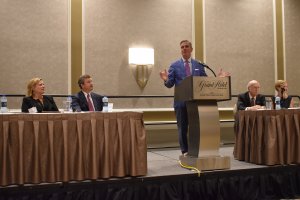 POINT CLEAR, Ala. – Montgomery lawyer Gibson Vance has begun his term as President-Elect of the Alabama State Bar. A principal at the Beasley Allen Law Firm, Vance was installed at the Bar's Annual Meeting on July 17, 2021. He will become the 147th President of the Alabama State Bar in 2022, following current bar president Taze Shepard, an attorney in Huntsville.
Vance said he looks forward to giving back to a group with which he has been involved for many years.
"I have been a long-time member of the Alabama State Bar, and it will be an honor to assist the incoming administration and prepare to help lead the organization next year."
Gibson's entire 28-year law career has been spent representing individuals who have been injured or mistreated. Advocating for and helping others through his work is deeply rooted in his upbringing. Born in Troy, Alabama, and raised by his mother, who was a schoolteacher, Gibson worked his way through Troy State University and Thomas Goode Jones School of Law. While attending law school at night, he worked for a law firm full-time as a law clerk during the day. While attending  Jones, he was elected Student Bar President.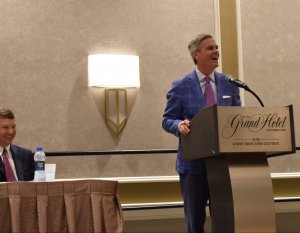 He began his law practice during law school when he obtained his third-year practice card, and he assisted in trying several jury trials. Gibson's started in a two-person law firm, handling all types of cases including criminal, civil, probate and domestic cases.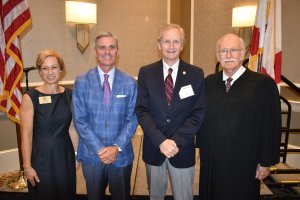 For the last 20 years, he has been a partner at Beasley, Allen, Crow, Methvin, Portis and Miles, PC. Gibson and has had the opportunity to handle cases throughout the state. He continues to support Troy University as president pro tempore of the school's board of trustees.
Gibson has served in many leadership capacities at the Alabama State Bar, most recently as Vice President from 2020-2021. He also served as a Bar Commissioner representing the 15th Judicial Circuit and chaired and been a member of numerous committees and task forces, including the Alabama Lawyers Care Task Force and the Elections, Ethics and Government Relations Committee.
In addition to his service with the Alabama State Bar, Gibson has been active in bar activities at the local and national levels. He has served as President of the Montgomery County Bar Young Lawyers Division, the Montgomery County Bar Association, the Alabama Civil Justice Foundation, the Alabama Association for Justice, the Southern Trial Lawyers Association and the American Association for Justice.
Gibson is married to Kate Vance, and they have two sons, Carter who attends Seminary, and Andrew, who is a Junior at Troy.
In addition to Gibson, the following individuals will serve on President Shepard's 2021-2022 Alabama State Bar's Executive Council:
President: Taze Shepard (Huntsville)
President-Elect: Gibson Vance (Montgomery)
Vice President: Tom Perry (Demopolis)
Secretary: Terri Lovell (Alabama State Bar Executive Director))
Executive Council: Fred Helmsing (Mobile)
Executive Council: Elizabeth Smithart (Union Springs)
Executive Council: John T. Stamps (Bessemer)
Immediate Past-President: Bob Methvin (Birmingham)
Personnel Chair: Clay Martin (Huntsville) – Ex Officio
Parliamentarian: Mark Boardman (Chelsea) – Ex Officio
Young Lawyers' Section President: Aaron Chastain (Bimingham) – Ex Officio
Alabama Lawyers Association President: Angelina Spurling (Birmingham) – Ex Officio
Alabama Lawyers Association Immediate Past President: Leon Hampton (Montgomery) – Ex Officio

Media Contact: Melissa Warnke
Director of Communications, Alabama State Bar
(334) 517.2218 (c) | (256) 338.0621 (c)
melissa.warnke@alabar.org
The Alabama State Bar (ASB) is the official licensing and regulatory organization of lawyers in Alabama. Since 1923, when the Alabama State Bar was created by an act of the legislature, ASB programs and activities have continuously served the public and improved the justice system. It is dedicated to promoting the professional responsibility and competence of its members, improving the administration of justice and increasing the public understanding of and respect for the law.