Governor Kay Ivey Signs "Law Day in Alabama" Proclamation
Published on May 1, 2023
Montgomery, AL – Alabama Gov. Kay Ivey has proclaimed May 1, 2023, as Law Day in the State of Alabama and presented the Alabama State Bar with the official proclamation.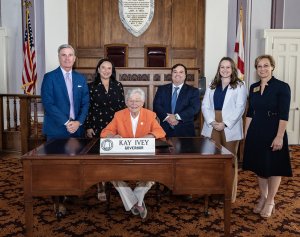 Law Day, which celebrates the rule of law, provides an opportunity to understand how law and the legal process contribute to the freedoms that all Americans share. Celebrated nationally, there is a new theme each year, and this year's theme is, "Cornerstones of Democracy: Civics, Civility, and Collaboration."

"We encourage all Americans to work together to overcome our differences, resolve our disputes, and preserve our democracy and republic.," Gov. Ivey's proclamation reads in part. "Members of the legal profession should lead the way in promoting collaboration to overcome our differences and resolve our disputes so that we may strengthen the bonds of affection between citizens, and ensure all Americans understand how our constitutional order protects the blessings of liberty."
To commemorate this year's theme, Alabama attorneys will be spending part of their day Monday, May 1, visiting classrooms throughout the state, either virtually or in person. More than 100 lawyers, judges, and law professors have volunteered to teach classes across the state, from as far north as Madison County to as far south as Baldwin County. Some lawyers will be teaching multiple classes throughout the day. 
As part of the classroom plans, students will discuss the benefits of remaining civil in a disagreement, understand the importance of civil discourse in society, and create an anchor chart as a guide for others in social civility.
You can follow the Law Day events by following the hashtags #LawDay #ASB. Bar associations throughout the country will be celebrating their own Law Day events in virtual or in-person events. You can find more details at www.alabar.org/LawDay/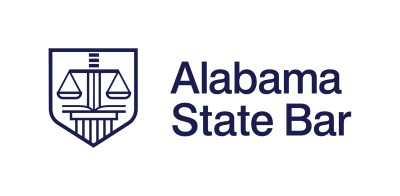 The Alabama State Bar (ASB) is the official licensing and regulatory organization of lawyers in Alabama. Created in 1879, the Alabama State Bar became an integrated bar in 1923 by an act of the legislature. Since then, ASB programs and activities have continuously served the public and improved the justice system. It is dedicated to promoting the professional responsibility and competence of its members, improving the administration of justice and increasing the public understanding of and respect for the law.
Media Contact:
Melissa Warnke
Director of Communications, Alabama State Bar
(334) 517.2218 (o) | (256) 338.0621 (c)
melissa.warnke@alabar.org