Governor Kay Ivey Proclaims May 2 'Law Day' in Alabama
Published on April 26, 2022
Montgomery, AL – Alabama Gov. Kay Ivey has proclaimed May 2, 2022, as Law Day in the State of Alabama. Gov. Ivey presented Alabama State Bar Executive Director Terri Lovell and Lawyers in the Classroom Committee Chairs Brett Holsombeck and Hope Marshall with the official proclamation.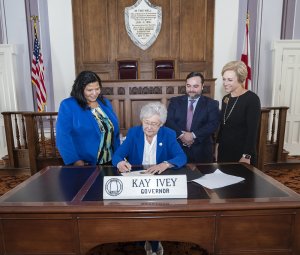 Law Day, which celebrates the rule of law, provides an opportunity to understand how law and the legal process protect our liberty, strive to achieve justice, and contribute to the freedoms that all Americans share. Celebrated nationally, there is a new theme each year, and this year's theme is, "Toward a More Perfect Union: The Constitution in Times of Change."
"Creating a more perfect Union requires an educated citizenry that understands the rule of law and demonstrates engaged citizenship," Gov. Ivey's proclamation reads in part. "The theme for Law Day encourages all Americans to consider and pursue the roles that we all play in helping the United States achieve 'a more perfect Union.'"
To commemorate this year's theme, Alabama attorneys will be spending part of their day Monday, May 2, visiting middle school classrooms throughout the state, either virtually or in person. More than 100 lawyers, judges, and law professors have volunteered to teach classes across the state, from as far north as Madison County to as far south as Baldwin County. Some lawyers will be teaching multiple classes throughout the day.  Lawyers will talk about the importance of the rule of law and explain how it continues to shape our nation and our lives.
"This year's focus provides young people with the opportunity to learn about how the Constitution and its mechanisms for change helps to fulfill promises of the Framers and guarantee rights," said Brett Holsombeck.
"It is not perfect, as our nation's history makes clear. But legislation, amendments, court rulings, and "We the People," build upon those original words across generations as we continue our attempt to form a more perfect Union," added Hope Marshall.
As part of the classroom plans, students will explore the rule of law through various group activities, discussions, and question and answer sessions. Students will gain a more robust understanding of what "the rule of law" is and why it is important for us as a society to uphold it. At the conclusion of the lessons, students can draw a picture or provide word art to demonstrate what the rule of law means to them.
"Signed in 1787, our Constitution is a dynamic blueprint for government that delegates power, articulates rights and offers mechanisms for change," said Alabama State Bar Taze Shepard. "It reminds us that defining and refining those words might be our oldest national tradition. Each of us has a responsibility to help the United States become a more perfect Union."
You can follow the Law Day events by following the hashtags #LawDay #ASB #LawyerinEveryClassroom. Bar associations throughout the country will be celebrating their own Law Day events in virtual or in-person events. You can find more details at www.alabar.org/LawDay/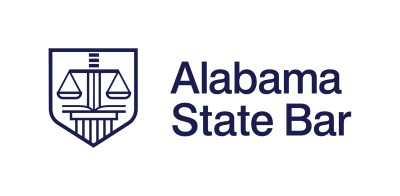 The Alabama State Bar (ASB) is the official licensing and regulatory organization of lawyers in Alabama. Created in 1879, the Alabama State Bar became an integrated bar in 1923 by an act of the legislature. Since then, ASB programs and activities have continuously served the public and improved the justice system. It is dedicated to promoting the professional responsibility and competence of its members, improving the administration of justice and increasing the public understanding of and respect for the law.
Media Contact:
Melissa Warnke
Director of Communications, Alabama State Bar
(334) 517.2218 (o) | (256) 338.0621 (c)
melissa.warnke@alabar.org