Health and Wellness Podcasts to Add to Your Playlist
Published on February 19, 2020
By M. Leigh Tyson J.D., Assistant Attorney General for the State of Alabama
I've listened to podcasts for the past several years anytime I'm stuck in my car for a commute. For the uninitiated, podcasts are audio programs of varying lengths; some last a few minutes, and others last hours. They are a great way to educate yourself on almost any topic imaginable.  My favorite topic is wellness, and I have an extensive list of podcasts saved for listening at any time.
There are thousands of podcasts available on a multitude of free apps like Stitcher, IHeartRadio, Apple Podcasts, Spotify and many more.  My favorite platform is Stitcher, which is where I put together my list of the ten favorite podcasts for health and wellness.
Bulletproof Radio: One of the most popular podcasts in the wellness arena is Dave Asprey's Bulletproof Radio. He's a resource on biohacking, a term that means understanding one's biology to find ways to make a healthy lifestyle easier to achieve.  His podcast focuses on every aspect of self-improvement from sleep to gut health.  He usually publishes two podcasts a week.
Prior Topics:  How to Stay Preset No Matter What

The Phenomenon of Your Metabolism

Kick Veggies to the Curb and Go Full Carnivore
Shrugged Collective: These podcasts are almost all aimed at physical health. The origin of this podcast is Barbell Shrugged, which consisted of three friends offering advice on CrossFit workouts.  The podcast has now evolved into a collection of several different hosts, but the focus is still physical health.  The podcasts lean towards weightlifting with a healthy side of CrossFit.  The Collective posts  two to four podcasts per week.
Prior Topics:  Immediate Steps to Increase Your Squat, Dead lift and Bench Press

Build Muscle with Mindfulness

Science, Strength and the Gut Biome
The School of Greatness: Lewis Howes has one of the most popular podcasts available. His focus is on emotional and mental wellness.  He interviews top CEO's, athletes and authors and focuses on overcoming struggles and how to be a happier, healthier person.  He publishes two to three podcasts per week.
Prior Topics: The Science of Sleep for Ultimate Success

Optimism is a Superpower

Calm Your Mind and Master Meditation
The Model Health Show: Shawn Stevenson has an entertaining podcast that deals with almost any wellness-related subject you can imagine: meditation, performance, stress and relationships, just to name a few. He usually posts one to two podcasts a week.
Prior Topics:         Break Free from the Dieting Mentality & Improve Your Relationship with Food

Positive Psychology: How to Wire Your Brain for More Happiness

Four Hidden Things that Could Be Destroying Your Sleep Quality
The Fat Burning Man: Abel James has an excellent wellness podcast with a strong focus on diet. He is an advocate for a primal diet, which focuses on eating protein, natural fat and lots of vegetables.  He brings on guests that discuss everything from the Keto Diet to fasting.  He publishes one podcast a week.
Prior Topics: Benefits of Exercising Outdoors to Increase Creativity & Reduce Stress

How to Overcome Binge Eating & Drop Over 100 Pounds

Metabolism Reset, Liver Health & Why You Can't Hack a Garden
Rebel Meditation: The host, Lauren Bear, publishes daily podcasts for guided meditation. There are several podcasts that offer daily guided meditation, but I find Rebel Meditation to be the best.  Perhaps it's the host's smooth, monotone voice lets me focus on relaxing while taking my meditative journey.
Prior Topics:  Walking Away from Stress

A Beautiful Campfire

Relaxing in the Forest
Mind Pump: This is a great podcast with three co-hosts: Sal DiStefano, Adam Shafter and Justin Andrews.  The podcast uses a discussion format and focuses on physical exercise, specifically strength training.  However, the hosts' conversations touch on many aspects of wellness, and they keep your attention throughout the programs.  Mind Pump publishes one podcast a day.
Prior Topics: Seven Ways Functional Training Burns Fat & Builds Muscle               

The Seven Deadly Fitness Lies Sold to Women

Four Ways to Change Your Workout for Maximum Results
The Jordan Syatt Mini-Podcast: Syatt's podcasts usually involve interviewing average people about overcoming barriers or achieving fitness goals. He has a strong focus on diet, but also delves into workouts and personal training.  Syatt's programming is perfect for those looking to be inspired.  He publishes one to two podcasts per week.
Prior Topics:  How to Be Consistent in 2020 & Stop Self-Sabotaging

Re-Defining the Perfect Workout

Getting Over Gym Anxiety at 313lbs
Health Via Modern Nutrition (HVMN): Host Geoffrey Woo is a computer science graduate from Stanford University. He chose an unusual career path of creating a supplement company and a wellness podcast.  His podcast almost exclusively covers nutrition topics and dieting.  He publishes one to two podcasts per week.
Prior Topics: Before & After Keto: Losing Weight, Gaining Muscle & Correcting Health

Fasted vs. Fed Exercise: Which Should You Do?

Heart Health & Diabetes: How Diet & Hypoxia Affects Metabolic Flexibility
High Intensity Health: The host of the podcast, Mike Mutzel, MS, is well known in podcast wellness circles. He publishes one podcast a week of his own, but he's often a guest on other podcasts as well.  His podcast is packed with great information on almost any area of wellness you can imagine.
Prior Topics:  Building Muscle via the Mind-Muscle Connection

Exercise Frequency for Building Muscle and Strength Gains

New Blue Light, Circadian Rhythm & Sleep Research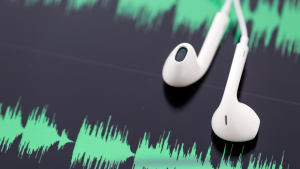 If none of these podcasts interest you, search for one that does! You be hard-pressed to find a topic that isn't covered. Podcasts are a great way to feed your mind and stay motivated to achieve your wellness goals, whether they are related to your weight, mental health or physical health.