Alabama State Bar Announces Members of Leadership Forum Class 17
Published on November 28, 2022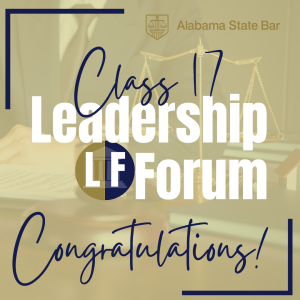 MONTGOMERY – The Alabama State Bar on Monday announced the lawyers selected for Leadership Forum Class 17.
Leadership Forum is honored as a dynamic and highly effective program for nurturing and developing leadership skills and values among a select group of qualified, promising attorneys each year. Entry to the program is competitive, with just 20-30 participants selected each year. Since its inception in 2005, Leadership Forum has illuminated a pathway for nearly 500 graduates to move the profession forward with ethical, servant-minded and community leadership.
"The Alabama State Bar constantly emphasizes service as it encourages its 19,000+ members to develop their leadership skills so that they can better serve their communities, our State and society in general. The Bar's Leadership Forum is an excellent example of a Bar program that prepares Bar members for their future leadership with charitable organizations, local or State governing boards and councils, and political office," said Alabama State Bar President Gibson Vance.
Class 17 Members:
Robert Baxley, Balch & Bingham, Birmingham
Autumn Caudell, Alabama State Bar, Montgomery
Alex Caudell, Alabama Medicaid Agency, Montgomery
Darius Crayton, Farris Riley & Pitt, Birmingham
Ryan Duplechin, Beasley Allen, Montgomery
Jillian Evans, State of Alabama Attorney General's Office, Montgomery
James Feltham, Bradley Arant, Birmingham
Coty Hand, Lauderdale County District Attorney's Office, Florence
Jessie Hardy, J. Hardy Family Law, LLC, Mountain Brook
Effie Hawthorne, Alabama Board of Medical Examiners, Montgomery
Irving Jones, Jr., Balch & Bingham, Birmingham
Kimberly King, City of Tuscaloosa, Tuscaloosa
Kristy Kirkland, Legal Services Alabama, Dothan
Don Long, III, US Attorney's Office, Birmingham
Meredith Maitrejean, Farris Riley & Pitt, Birmingham
Yawanna McDonald, Campbell Partners, LLC, Birmingham
Keren McElvy, The McElvy Law Firm, Montgomery
Julie McMakin, Jefferson County District Attorney's Office, Birmingham
Tiffany Ray, Taylor Martino, PC, Mobile
Angela Schaefer, Loftin Holt, LLP, Huntsville
Tiffany Smith, Kent McPhail & Associates, Mobile
Claire Veal, Alabama Supreme Court, Montgomery
The Alabama State Bar (ASB) is the official licensing and regulatory organization of lawyers in Alabama. Created in 1879, the Alabama State Bar became an integrated bar in 1923 by an act of the legislature. Since then, ASB programs and activities have continuously served the public and improved the justice system. It is dedicated to promoting the professional responsibility and competence of its members, improving the administration of justice and increasing the public understanding of and respect for the law.
Media Contact:
Melissa Warnke
Director of Communications, Alabama State Bar
(334) 517.2218 (o) | (256) 338.0621 (c)
melissa.warnke@alabar.org