Lenora Pate Posthumously Receives Susan Bevill Livingston Leadership Award
Published on February 21, 2022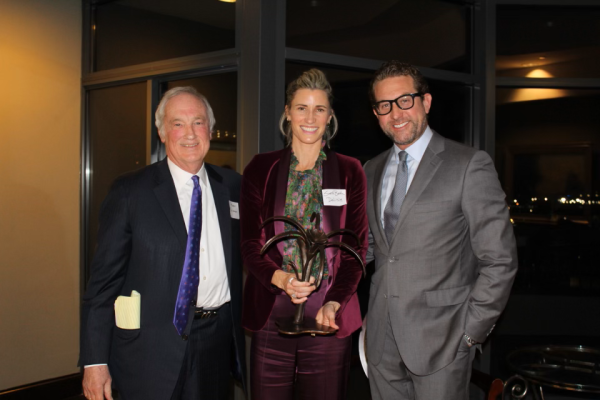 The Alabama State Bar's Women's Section posthumously awarded Lenora W. Pate with the the 2021 Susan Bevill Livingston Leadership Award. After a courageous battle with cancer, Pate passed away on June 23, 2021.
Members of her family were presented with the award at a reception on Feb. 16, 2022, at Denton Sirote in Birmingham, and Pate was celebrated for the many ways she impacted her community and her profession.
Pate was a 1985 graduate of Cumberland School of Law, graduating as Salutatorian Summa Cum Laude of her class.   Ms. Pate received numerous accolades during her legal career including being named as Best Lawyers Health Care Lawyer of the Year in 2016 and 2021, being ranked as a "Best Lawyer in America" for Health Care law for 14 straight years from 2007-2021, being named as a "Top Five Most Influential Lawyer" in 1999 by the Birmingham News and serving as Chair of the Alabama Citizens for Constitutional Reform from 2003-2020.   Ms. Pate was also involved in her community, serving in leadership positions in many community activities.  She served as Chair of the Board of Directors of the American Cancer Society, as the first non-Jewish Member of the Birmingham Jewish Federation, as a Member of the Samford University Board of Overseers, and as Chair of the Alabama Women's Commission. In 2017, she received the American Cancer Society's St. George National Award for her work in passing anti-smoking ordinances, and she also worked relentlessly to raise funds and awareness to support cancer research.   Additionally, Ms. Pate served as an example and mentor to countless female attorneys regarding the practice of law, but also, the true heart of a servant leader.
Women's Section Chair Sherrie Phillips said, "The Women's Section is proud to bestow this award to Ms. Pate's family and to all the trailblazing women in the profession who have opened doors for more women to become attorneys and succeed in their fields of practice."