Megan Hughes Joins Alabama State Bar Communications Department
Published on February 10, 2020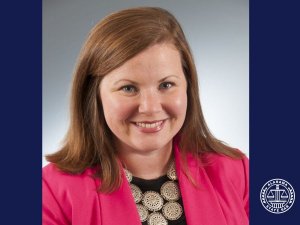 MONTGOMERY, Ala. – Megan G. Hughes, APR, has joined the Alabama State Bar as Outreach and Content Manager. She'll manage the bar's content-related assets and outreach efforts and assist Director of Communications Melissa Warnke. Hughes has 15 years of professional experience in the field of public relations, 12 of those years spent in higher education. Prior to joining the bar, she served as Public Affairs and Development Director for the Family Sunshine Center in Montgomery.
"Megan is an outstanding addition to our team, and she brings with her a wealth of experience," said Alabama State Bar Executive Director Phillip McCallum. "Her skill set spans all aspects of design, communications and development, and we are thrilled to have her."
Hughes affectionately calls herself a military brat, being born into a military family; however, she claims Montgomery as her hometown. Megan is a graduate of Auburn University and the University of Southern Mississippi, where she earned her bachelor's and master's degrees in public relations, respectively. She earned her Accreditation in Public Relations (APR) in 2015, and supports her community by serving on the Leadership Council at Aldersgate United Methodist Church, the State Committee for Distinguished Young Women of Alabama and the Montgomery Auburn Club Board of Directors. She and her husband, Joel, live in Pike Road. Joel works for Troy University's Continuing Education division doing business development and corporate training. They have one son, Seth, and enjoy spending time with family and friends.

The Alabama State Bar (ASB) is the official licensing and regulatory organization of lawyers in Alabama. Since 1923, when the Alabama State Bar was created by an act of the legislature, ASB programs and activities have continuously served the public and improved the justice system. It is dedicated to promoting the professional responsibility and competence of its members, improving the administration of justice and increasing the public understanding of and respect for the law.
Media Contact:
Melissa Warnke
Director of Communications, Alabama State Bar
(334) 517.2218 (o) | (256) 338.0621 (c)
melissa.warnke@alabar.org