Mobile Law Firm and CPA Firm Join Together to Assist Armed Forces with Tax Preparation Services
Published on February 18, 2020
Contributed
Mobile, Ala. — Through a joint program with the American Bar Association Tax Section, the IRS, and the Armed Forces Tax Council, tax lawyers with the firm of Armbrecht Jackson recently had the opportunity to join with members of the firm of Crow, Constantine, Singleton, Morrow and Elliott, CPAs (CCSME), to assist local members of the armed forces with their training and instruction for tax preparation services. Through this Adopt-A-Base program, tax lawyers and CPAs are enlisted to "instruct the instructors", by training military personnel to become volunteer tax return preparers for their fellow service members through what is called the Volunteer Income Tax Assistance Program ("VITA"). This program is used by many military installations around the country to provide free tax preparation services for members of the armed forces in the local area.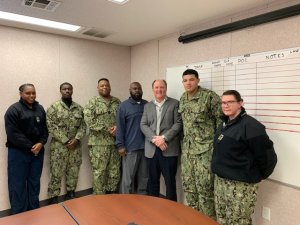 The Armbrecht Jackson attorneys who participated as instructors were tax lawyers Robert Turnipseed and Steve Pearson. The CPAs for CCSME who participated were Bobby Crow and Jay Elliott. This year, the Adopt-A-Base program selected Ingalls Shipbuilding as its location for the training program, and the instructors provided training for seven new VITA instructors for the U.S.S. Delbert Black, DDG 119, which is currently under construction at Ingalls. The training took place on January 21 and 22, 2020.
"It was truly a pleasure for all of us to not only train some of our newest members of the Navy in tax preparation, but also to see them in action as they prepare to serve on one of our newest naval vessels," said Mr. Turnipseed. "It is our hope that we can continue to recruit other tax lawyers and CPAs from the local community, both in Mississippi and Alabama, so that we can provide this service to other bases in the local area in the years to come."
For more information about the ABA Tax Section's "Adopt-A-Base" program, click here.
###
CONTACT: Marissa Thetford
marissa@marissathetford.com
251.367.4900
About Armbrecht Jackson LLP:
Armbrecht Jackson LLP law firm provides business and litigation services in a broad array of specialties. Founded in 1897 in Mobile, Alabama, the firm has built a reputation for excellence, with more than half of its current lawyers, including associates, listed in Best Lawyers. U.S. News rates our firm in Tier 1 in 21 practice areas, the most of any law firm in Mobile, Alabama. For more information visit ajlaw.com.