President Taze Shepard Honored with Solo and Small Firm Section's 2021 Outstanding Service Award
Published on November 9, 2021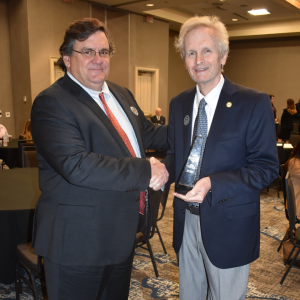 Alabama State Bar President Taze Shepard has received the 2021 Outstanding Service Award from the Solo and Small Firm Section. The award, given annually, honors a section member who has made significant contributions and demonstrated exemplary service to the section and the solo and small firm attorneys it serves.
During Shepard's two terms as section chair, section membership doubled, and section member benefits increased dramatically. Shepard is shown here with current section chair Tom Perry.
The Solo and Small Firm Section is the largest section of the Alabama State Bar. Section membership is open to all members of the Bar, but programs and educational offerings are designed to help new, small firm, or solo practioners meet the demands and exceed the expectations of their clients, the courts, the legal profession, and their communities.

Media Contact: Melissa Warnke
Director of Communications, Alabama State Bar
(334) 517.2218 (c) | (256) 338.0621 (c)
melissa.warnke@alabar.org
The Alabama State Bar (ASB) is the official licensing and regulatory organization of lawyers in Alabama. Since 1923, when the Alabama State Bar was created by an act of the legislature, ASB programs and activities have continuously served the public and improved the justice system. It is dedicated to promoting the professional responsibility and competence of its members, improving the administration of justice and increasing the public understanding of and respect for the law.