Sara Clark, Oldest Member of Alabama State Bar, Passes Away
Published on November 13, 2020
Sara Dominick Clark, the oldest member of the Alabama State Bar, passed away Sunday, Nov. 8, 2020, at the age of 102. Clark, who was admitted to the Bar in 1941, was a much-loved, retired professor at Cumberland School of Law and the 2010 recipient of the Maud McLure Kelly Award. The award, named for the first woman admitted to practice law in Alabama, is presented each year by the Women's Section of the Alabama State Bar to a female attorney who has made a lasting impact on the legal profession and has been a pioneer and leader within the state.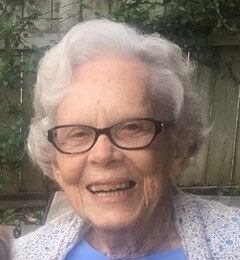 Sara was born in 1918 during the great flu pandemic to the late Esther Elliott Dominick and Frank McCoy Dominick, Sr. Also, pre-deceasing her is her beloved brother and golfing partner, Frank McCoy Dominick, Jr.
Sara was married to the late James E "Red" Clark for 35 years. They had three daughters, Sally Clark Bowers (John) of Sylacauga and Birmingham, Martha Marx Elovitz (Mark) of Birmingham, and Cecil Anne Clark (Peter Casten) of Birmingham. Sara is also survived by her beloved grandchildren, John Michael Bowers, Clark Bowers, Kathleen Bowers Ennis (Henry), Hugo Marx IV (Julia), Hallie Marx Webber (Will), Alice Marx Goodsell (Blake), Nathan Marx, and Sara-Gail Prudenti, seven great-grandchildren, and many nieces and nephews.
After graduating from Birmingham Southern College, Sara attended the University of Alabama School of Law where she was one of the very few women in her class. She practiced law with her brother, Frank Dominick, until she had her first child eight years later. Taking an absence from the practice of law when her three children were growing up, Sara was not absent from leadership and community service. She served as PTA president, girl scout leader, and president of various community organizations. In 1976, after her children were grown, Sara began her second career at Cumberland Law School as admissions secretary. She quickly rose through the ranks to become Professor Clark. She was twice voted by students as "Favorite Freshman Professor." Upon retirement from Cumberland, she was granted Professor Emerita status. Retirement did not slow Sara down. She enjoyed worldwide, adventurous travel with Samford alumni and family.
"With all her accomplishments, it was her character that inspires the most. She was gentle and kind to everyone regardless of their status in life," said her daughter Sally Bowers, an attorney and Bar Commissioner from the 29th judicial circuit.
The Alabama State Bar expresses our deepest condolences to the family of Sara Clark, and we are thankful for her many contributions to the practice of law in the state of Alabama.