The Scoop - 08.23.21
Published on August 23, 2021
This newsletter was emailed to all members on Monday, Aug. 23, 2021. If you did not receive it, please check your email preferences on your Dashboard to make sure you have checked the box to allow optional emails from the Alabama State Bar.
News and Updates
Supreme Court of Alabama Declares Temporary State of Emergency
Effective today, the Supreme Court of Alabama has declared a temporary state of emergency authorizing the use of audio/video technologies in place of in-person proceedings. The Order, which is in place until Nov. 29, 2021, was issued in response to recent increases in COVID-19 infections in certain areas of the State of Alabama.
A portion of the Order read, "Time is of the essence and the use of audio/video technologies is necessary for the proper administration of justice." You can read the full Order here.
Credit Card Payments to be Accepted in Appellate Courts
On Aug. 18, the Supreme Court of Alabama issued an Order approving the acceptance of credit card payments for all appellate docket fees for the Appellate Courts of Alabama.
Decisions and Opinions from Alabama's Appellate Courts
Click here to view the Supreme Court of Alabama decisions and opinions from August 20.
Click here to view the Criminal Appeals decisions and opinions from August 20.
Click here to view the Civil Appeals decisions and opinions from August 20.
---
---
---
Upcoming Free CLEs
Free CLE: Redemption Act and Expungements
Monday, Aug. 30 at Noon
The Lawyer's Voices for Survivors Task Force is sponsoring an expungement CLE Aug 30, 2021 at Noon focused on the recently enacted Redemption Act. Even if you have never done an expungement, it is not difficult and you will learn about the new Act and how it impacts survivors, as well as how to handle an expungement. You will also receive very valuable materials at the CLE, which include the Act, a summary of the Act, and a breakdown of how the act applies to various criminal charges and convictions.
Register at this link for this FREE CLE webinar. This program has been approved for 1.0 hour of MCLE credit.
Free CLE: Private Judging in Alabama – A Primer
Wednesday, Sept. 22 at Noon
Join Private Judges Lang Floyd, Dave Jordan and Julie Palmer as they review the Alabama Private Judges Act in this live webinar. You'll learn the who, what, when, where, how and why of Private Judging in Alabama. Our panelists will answer questions you have about this area of alternative dispute resolution.
Register at this link for this FREE CLE webinar. This program has been approved for 1.0 hour of MCLE credit.
Take the Law Firm Challenge Today!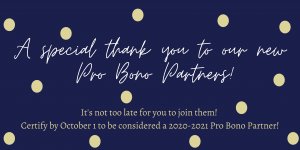 Key Greer Harrison & Casey
Prim & Mendheim, LLC
Earl P. Underwood, Jr. Attorney at Law
Heath Trousdale
Law Office of Stephen Perdue LLC
Law Office of Al Danner
Join volunteer lawyers who are helping expand access to justice. For more information, contact Pro Bono Clinic and ABAP Coordinator Hilaire Armstrong
Buzz from the Bar
Meet Jacqueline Blanchard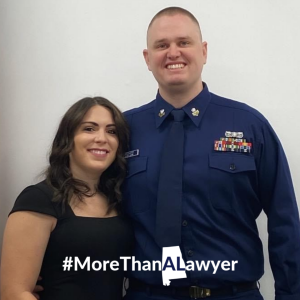 Last week's #MoreThanALawyer featured attorney Jacqueline Blanchard of Carr Allison. We are excited to introduce her to you here!
***********************
"In addition to being an attorney at Carr Allison in Daphne, I am also the spouse of an Active-Duty Coast Guard Boatswain's Mate. While practicing law is important to me, I am also very passionate about advocating to make the lives of military families better. I serve on the board of the Military Spouse J.D. Network as the Homefront to Hired Director where I help military spouse attorneys find employment in the legal profession and put their law degrees to use. Homefront to Hired works with companies, firms, and other employers that recognize the challenges faced by military families and are committed to hiring military spouse attorneys and matching MSJDN members with job opportunities. Many military spouse attorneys are eager to work but struggle with licensing issues and regular relocations. These spouses juggle families, deployments, and the nuances of a military lifestyle all while trying to advance their careers in the legal field. Supporting military spouse employment not only improves the lives of military families, it also increases the readiness and retention of the Armed Forces.
I have also volunteered with the South Alabama Volunteer Lawyers "Wills for Heroes" Program. This program provides Wills, Powers of Attorney and Health Care Directives to first responders so that their families will be protected in the event of a tragedy. I was privileged to prepare these legal documents for the first responders of Baldwin County.
Although being an attorney and a military spouse has its challenges, being both have made my life better. I zealously advocate for my clients, and I also have the honor of supporting our country by improving the lives of active-duty soldiers and their families."
******************************
What is our #MoreThanALawyer campaign all about? It's how we highlight all the ways Alabama's attorneys impact lives within and outside of their profession. Alabama's lawyers are parents, volunteers, mentors, coaches, musicians and committed advocates. In all of these roles, they make a difference in their community. If we don't share our own stories, no one else will. Share your story with us by sending us a message, and we'll follow up with you!
VLP Clinic in Tuscaloosa

The Alabama State Bar's Volunteer Lawyers Program had a successful kick-off to its monthly legal clinics last week in Tuscaloosa. The clinic, held in partnership with the Tuscaloosa County Bar and the UA School of Law Public Interest Program, will be at the Tuscaloosa County Library. If you want more information or wish to volunteer, please email vlp2@alabar.org
Featured Member Benefit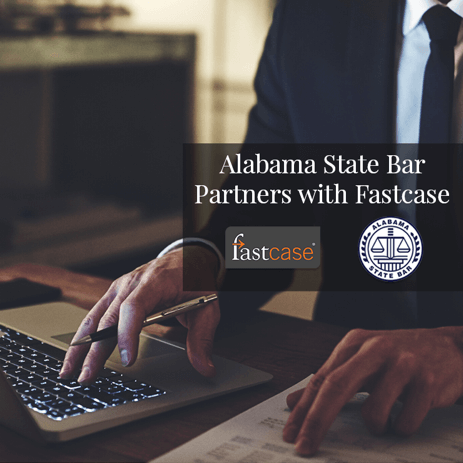 Fastcase is a free, internet-based legal research platform available to all Alabama State Bar members. In addition to Alabama case law, the Fastcase library includes federal case law, as well as statutes and regulations at both the state and federal levels. Fastcase can be accessed in the sidebar menu on your Dashboard page