FROM THE ALABAMA LAWYER: 30 Faces of Pro Bono, Part 2 of 6
Published on March 25, 2021
Joseph R. Abrams, City Attorney's Office, Birmingham
Joseph Abrams, an attorney for the City of Birmingham, has dedicated the majority of his young career to providing legal services to those who can't afford it. He began as a staff attorney for Legal Services Alabama, where he represented clients in housing and consumer law, domestic relations, and public benefits. During his time there, he served as a member of LSA's High Impact Litigation Unit, where he worked on litigation that would change the lives of the most vulnerable and co-authored several amicus briefs on behalf of low-income Alabamians. His impact on the state reaches far and wide because he used his skills and talents to help others.
Abrams's passion for service extends outside of his full-time job. He often can be found volunteering at the Alabama State Bar Volunteer Lawyers Program monthly counsel and advice clinics held at the Tuscaloosa County Library. At the clinics, clients feel relief over being able to tell their stories to someone who cared. Abrams meets clients where they are and provides a safe space for those who often feel unheard by the rest of the world.
When attorneys provide pro bono services, they give hope to the hopeless and change lives. When asked why pro bono work is important, Abrams says, "At its most essential parts, pro bono work helps to prop up the scales of justice, ensuring that they remain balanced." It's the work of pro bono attorneys like Joseph Abrams that ensures justice is fair and truly blind.
Mark H. Carlton, Carlton, Crutchfield & Maddox LLC, LaFayette
When you think of someone you can count on, Mark Carlton is that person. Carlton joined the Volunteer Lawyers Program in 2002 and has accepted every single case that has been referred to him. That level of commitment and dedication needs to be recognized.
Carlton has been in practice for over 20 years, specializing in criminal defense/DUI, divorce/child support, probate, estates, adoptions, motor vehicle accidents, personal injury, and wrongful death. His work for the Volunteer Lawyers Program focuses on the program's greatest area of need, divorces, making a difference in so many lives. Carlton says, "Pro bono work is important to me because it's helping people who truly need the help, but can't afford to hire a lawyer to assist them."
By volunteering his services, Carlton is changing the world and the profession. "[Pro bono work] is a small form of community service, and [my] hope is that the clients will share that there are attorneys in the community who actually care about people and not just money. Attorneys often get a 'bad rap' for many things, and for some reason, it usually has to do with only caring about money. This is a small way to show people in the community that is not actually the case." Carlton understands the importance and value of pro bono work and recommends that everyone volunteer. He says his clients share their appreciation of his service by telling friends and family that have become paying clients.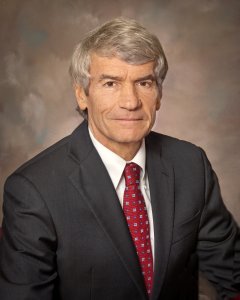 Samuel N. Crosby, Stone Crosby PC, Daphne
Like many Alabama lawyers, Sam Crosby has been helping people who could not afford legal services my entire career. Crosby's most memorable pro bono case was for the widow. She raised nine children while taking care of her disabled husband and supporting her family by babysitting and cleaning houses. When her husband died, Crosby kept her from losing her house through a circuit court action. Later, he was deeply touched when the client donated to the South Alabama VLP to "help other people like me."
In 2012, Crosby received the Harold Albritton Pro Bono Leadership Award. The award honors lawyers who, through their leadership and commitment, have enhanced the human dignity of others by improving pro bono legal services to our state's poor and disadvantaged. Crosby demonstrated this commitment first as president of the Baldwin County Bar Association when he helped establish a program to provide free legal services to families who had a service member mobilized during Desert Storm. The idea came from my tenure in the JAG Corps. Later, when he became president of the Alabama State Bar, he attended a conference where the South Carolina Bar president mentioned the Wills for Heroes program. Crosby contacted the lawyer who started the program and, working with him, the VLP, the Young Lawyers Association, and a committee of Alabama lawyers, started the Alabama program. In his opinion, "Alabama now has the best program in the country, and our lawyers have assisted thousands of first responders with estate planning needs."
Crosby added, "It … very rewarding to work as president with the Board of Bar Commissioners to establish the mandatory IOLTA program, which has raised millions of dollars in funding to provide civil legal services to indigent Alabama citizens."
The motto of the Alabama State Bar is "Lawyers Render Service." As Sam Crosby said, "Rendering service to others has been one of the greatest joys in my life".
Phillip D. Mitchell, II, Harris, Caddell & Shanks PC, Decatur
One of the greatest compliments a person can get is from someone they love. When Phil Mitchell's son, Phillip, was very young, he drew a picture of who he wanted to be. To Phil's surprise, his son drew a picture of his father. When asked why he chose his father, Phillip proudly said that he wanted to be just like him because he helps people. His son already knew the impact his father was having on the lives of vulnerable families.
Phil Mitchell began practicing with Legal Services Corporation of Alabama in Tuscaloosa, but soon returned to his hometown of Decatur, where he is now a shareholder with Harris, Caddell & Shanks PC.
Even in private practice, he has upheld his commitment to providing access to justice by serving on the Board of Directors of Legal Services Alabama, Inc., a statewide non-profit law firm dedicated to providing access to justice to Alabama's low-income community. Phil was the first attorney in his family and recognizes that they could have benefited from the very services he now provides.
He feels he has an obligation and responsibility to do pro bono work. During his 30-plus years of practicing, his fondest memories are from his pro bono work. Early in his career, he served as chair of the Alabama State Bar Pro Bono Committee and later as chair of the Pro Bono Celebration Task Force. As a member of the committee, his team was responsible for recruiting the majority of the volunteer attorneys in Morgan County. One major accomplishment from his service on the task force was the establishment of the "Lunch with the Chief Justice" during Pro Bono Week, a coveted event with the Alabama Supreme Court Chief Justice, awarded randomly to new volunteers during Pro Bono Month.
His pro bono work was recognized when he received the state bar's Pro Bono Award for outstanding service to his community. Phil reminds us all that "a sincere thank-you from a pro bono client is extremely rewarding, and can be overwhelming, especially when the client's appreciation of the help is truly all they can afford to give or pay you."
Pamela Bucy Pierson, professor emerita of law, University of Alabama School of Law, Tuscaloosa
Professor Pierson has worked with the Volunteer Lawyers Program since it began. Professor Pierson was at a state bar annual meeting and sat next to Melinda Waters, whom she had never met. "She [Melinda] told me about a new program the bar was starting, the Volunteer Lawyers Program. I said, 'Sign me up!'"
Professor Pierson believes, "Pro bono keeps me anchored to why I became a lawyer." While interning at a Legal Services program during her second year in law school, she saw the profound difference attorneys could make in their clients' lives and the gratitude of clients for their lawyers. As she became involved in the VLP, Professor Pierson "saw the same thing over and over."
For several years, Professor Pierson wrote about VLP cases for The Alabama Lawyer. "To prepare each story, I visited with the lawyer who handled the case. I also visited the client, in the client's home, to hear about the case from the client's perspective. I loved going to clients' homes. Each client was thrilled to sit with me and tell me about his or her case and, as they said proudly, 'my lawyer.' To these clients, their lawyers were sacred. Not only did their lawyers help them with their case, but they listened to them, advocated for them, and cared enough to help them. Their lawyers made these clients feel important and heard. One client proudly showed me a picture on the mantle alongside pictures of her two children. She said, 'This is my VLP lawyer.'"
Professor Pierson believes that through her pro bono service she has seen the "best of the best in our legal profession."