Young Lawyers Offer Free COVID-19 Legal Assistance to Alabamians
Published on May 18, 2020
Volunteer lawyers are ready to assist the public as they navigate the unforeseen legal matters resulting from the pandemic.
FOR IMMEDIATE RELEASE
Montgomery – The Young Lawyers' Section of the Alabama State Bar (ASB) in partnership with the ASB Volunteer Lawyers Program has launched a free legal assistance hotline for individuals and families throughout Alabama who are confronted with legal problems as a result of the COVID-19 pandemic. People may call the hotline at 334-517-2250 any time.
"Ultimately, we want to help people," said Robert Shreve, President of the Young Lawyers' Section and an attorney with Burr & Foreman in Mobile. "This is public service mission for us. Our goal is to use our skill set to provide free legal assistance to our neighbors in need in this state."
When connected to the hotline, callers should leave a voice mail message providing brief details about the type of assistance needed due to COVID-19, the county they are calling from along with contact information to receive a return call. Individuals will be matched with Alabama lawyers who have volunteered to provide free legal advice or assistance.
The types of legal advice or assistance available include:
Assistance with securing government benefits ;
Assistance in consumer protection matters, remedies and procedures;
Counseling on mortgage-foreclosure problems; and
Counseling on landlord-tenant problems.
Callers should be aware that there are limitations on legal services. The Alabama Young Lawyers' Section volunteers are primarily offering legal advice.  If additional services are needed, callers may be directed to the Volunteer Lawyers Program or Legal Services Alabama.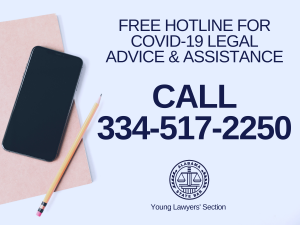 "We know there are so many people who have found themselves in need of help and legal assistance, and they don't know what to do. We are thankful to be able to help," said Ryan Duplechin, an attorney with Beasley Allen in Montgomery. Duplechin, a member of the Young Lawyers' Section Executive Committee is heading up the group's efforts to coordinate the assistance line.
"For the last 20 years, the Alabama State Bar's motto has been Lawyers Render Service, and we have never needed to serve the people of the State of Alabama more than now.  I'm proud that the Young Lawyers' Section and the Volunteer Lawyers Programs have, once again, recognized the needs in our State and joined together to meet those needs.  In the words of the great Dr. Martin Luther King, Jr.,  'Life's most persistent and urgent question is: What are you doing for others?' Through these programs, lawyers around the State of Alabama are answering that question," said Christy Crow, President of the Alabama State Bar.
More information about pandemic-related legal resources can be found at www.alabar.org/covid19/.

The Alabama State Bar (ASB) is the official licensing and regulatory organization of lawyers in Alabama. Since 1923, when the Alabama State Bar was created by an act of the legislature, ASB programs and activities have continuously served the public and improved the justice system. It is dedicated to promoting the professional responsibility and competence of its members, improving the administration of justice and increasing the public understanding of and respect for the law.
Media Contact:
Melissa Warnke
Director of Communications, Alabama State Bar
(334) 517.2218 (o) | (256) 338.0621 (c)
melissa.warnke@alabar.org