2020 Legislative Update: Week Three
Published on February 21, 2020
Legislative Tracking
The Alabama State Bar provides status reports concerning pending legislation that may be of interest to our members. This year, we are pleased to present them in two formats – an easy to view spreadsheet and categorized reports.
You can also view reports categories by specific categories for your convenience.
Legislative Summary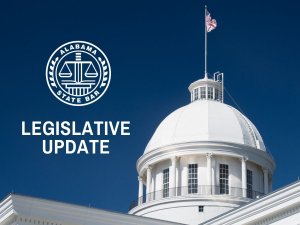 On Tuesday, Feb. 18, the Alabama Legislature began the third week of the Legislative Session. The business of the Legislature is starting to begin in earnest, as committees begin the real process of scrutinizing bills. Many of the committees met Wednesday, with numerous bills on their agenda. There are 24 committees in the House of Representatives and 16 committees in the Senate. It was a typical week with session on Tuesday and Thursday and committee meetings on Wednesday. Currently, 225 bills have been introduced in the Senate and 310 bills in the House of Representatives.
Some bills introduced this week include changes to the bail bond regulatory act, changes to boating under the influence and changes to gun regulations (both expanding and limiting). This week also included several bills relating to elections, municipalities, counties and voting rights. Others of interest included a bill relating to court reporters, a bill expediting the death penalty process and an expungement bill. There was also legislation proposing changes to estates with no heirs.
Bills in committee this week included medical marijuana, bail restrictions, texting while driving, mortgage satisfaction, public notices, an increase in the legal age to marry and the Alabama Law Institute's nonprofit business code update.
Bills passing out of their house of origin, and on to their second house, included sunset bills (bills renewing licensing agencies and boards), several bills that continue to enhance Alabama's military friendliness and the interim judge bill (creating a mechanism for retired judges to return and work in areas of need) passed out of the House and is headed to the Senate.
The first bill affecting court costs was introduced this week from Lawrence County. It is a service of process fee.
On Wednesday, we held a lawyer legislator breakfast to thank all of our hard working lawyer legislators who are rendering service in such an important way. We had one of the best turnouts in years. Thanks to all those lawyers who attended, and the lawyer legislators who bring their legal knowledge to the state house. Of the 140 members of the Legislature only 19 are lawyers, and they truly deserve our gratitude and appreciation for their service.
As always, the Alabama State Bar encourages all members to be aware of legislation that may impact court costs and fees. Access to justice is a priority. Please be aware of advertisements that may be occurring for local bills and those that may already be filed to use the courts as a fundraiser for non-court entities. We encourage you to be informed and notify us as well.
Legislative Calendar
The regular session of the 2020 Legislative Session is proceeding as follows:
The Senate has adjourned until Tuesday, Feb. 25, 2020 at 2:00 pm.
The House has adjourned until Tuesday, Feb. 25, 2020 at 1:00 pm.