Alabama State Bar's 2020 Annual Meeting Postponed Indefinitely
Published on April 9, 2020
The Alabama State Bar has been closely monitoring COVID-19 pandemic. The health and safety of all our members and attendees is a top priority.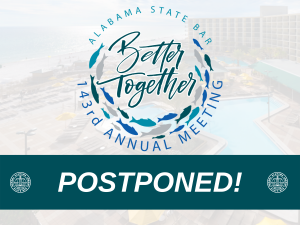 Dear Alabama State Bar Members and Annual Meeting Sponsors:
Due to the global COVID-19 (Coronavirus) pandemic, the Alabama State Bar is postponing the 2020 Annual Meeting, originally scheduled for June 24-27 at the Hilton Sandestin.
As you can imagine, we did not come to the decision lightly, and we are all disappointed that we won't be able to be together in June for our 143rd Annual Meeting.  Postponing the Annual Meeting is simply the right thing to do during this historic time. We need to do everything we can during this pandemic to protect the health, safety and well-being of our members and attendees, and postponing the Annual Meeting is the only way we can accomplish this.
We hope to be able to reschedule the meeting for later in 2020.  At this time, we don't have enough information to know when that will be safe or possible.
If you had already made your hotel reservations and wish to cancel,  you will need to cancel your own reservation by either calling the hotel at 888-519-1395 , or cancel on-line or via the Hilton Honors app.   If you have already registered for the annual meeting, you will receive a refund.
If you have further questions, please contact annualmeeting@alabar.org. More information will be posted on this page and on social media in the days and weeks ahead.  As always, you can stay up to date with everything the Alabama State Bar is doing by following us on Facebook, Instagram and Twitter and also on the COVID-19 response page on our website.
Please stay safe, wash your hands, and know that our thoughts and prayers are with you all during this difficult time..
Sincerely,
Christy Crow
President, Alabama State Bar
Phillip McCallum
Executive Director, Alabama State Bar