Ellen Brooks Named Alabama State Bar Interim Executive Director; Update on Executive Director Search
Published on December 9, 2020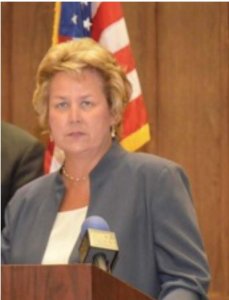 At the Dec. 4, 2020, Board of Bar Commissioners Meeting, Commissioners voted to hire Ellen Brooks as Interim Executive Director of the Alabama State Bar. Brooks will begin in January and will remain on board until July 2, if needed. Brooks is a former Montgomery County District Attorney, who served as DA from 1993 until 2014. Brooks began working in the District Attorney's Office for Alabama's Fifteenth Judicial Circuit in 1977 and served as chief deputy district attorney beginning in 1983. She also served for a year as a deputy attorney general. Brooks has extensive experience as a volunteer working with her church and not-for-profits, including co-founding the One Place Family Justice Center.
"I was not looking to return to work, but the opportunity to serve my colleagues across the state drew me out of retirement. My focus will be on enabling the staff to assist all the lawyers of Alabama with excellence. I am excited to join the team and welcome your input." Brooks plans to retire after her interim service and is not applying for the permanent position.
The Board's hire of Brooks comes after Phillip McCallum, former Executive Director of the Alabama State Bar, resigned on Oct 23, 2020. In a statement following McCallum's departure, President Bob Methvin said, "Phillip was a great face for our bar association, and he has certainly left it in a much better place than he found it. We all certainly wish him well as he returns to private practice."
In accordance with the Alabama State Bar's policies, the Management Team was activated during the time of transition. That team, which is chaired by General Counsel Roman Shaul, also includes Assistant Executive Director Justin Aday, Director of Communications Melissa Warnke, and Director of Finance Merinda Hall, has ensured that bar operations and service to members remains consistent.
The Alabama State Bar has retained Birmingham-based OnBoard Search to handle the administrative work of the permanent executive director search. OnBoard Search will post the job later this month on a nationwide scale and will then receive resumes which will be sent to the Executive Director Search Task Force.
You can see all 26 members of the Executive Director Search Task Force here.
After screening and interviewing candidates, the Task Force hopes to select a candidate or candidates by Apr. 2, 2021. Such candidate(s) will then be presented to the Board of Bar Commissioners for vote at a special-called April meeting or at the already scheduled May meeting.