Law Day and Law Month to Be Celebrated in May
Published on April 26, 2022
The 2022 Law Day theme is "Toward a More Perfect Union: The Constitution in Times of Change."  Commemorated annually, Law Day is an opportunity to host or participate in discussions about law and its role in society. A variety of events are planned to celebrate.
Celebrating Law Day 2022: How has the U.S. Constitution changed, and what does it mean for those who live in our country? To find out, the Johnson Institute went to an expert, J. Mason Davis, Jr., to discuss the 2022 Law Day theme, "Toward a More Perfect Union: The Constitution in Times of Change."
Davis, now retired, spent his career as an attorney in Birmingham Alabama. "He was involved in some of the most significant controversies in the civil rights struggle. As the attorney for a number of students who participated in the widely publicized Huntsville lunch counter sit-ins in 1961 and 1962, Davis played a key role in the desegregation of Alabama. In recognition of his conspicuous contributions in advancing racial reconciliation, his family was pictured on Time magazine's cover in 1974," as his Dentons Sirote bio states.
This interview, conducted by a middle school social studies teacher, Brittany Hamner of Erwin Middle School in Center Point, Alabama, is geared to middle and high school students.
---
May 2, 2022: Alabama Gov. Kay Ivey has proclaimed May 2, 2022, as Law Day in the State of Alabama. The Alabama State Bar's Lawyers in the Classroom Committee, led by co-chairs Hope Marshall and Brett Holsombeck, organized a day of civic education inside middle schools in Alabama. More than 100 attorneys will spend part of their day Monday, May 2 volunteering to teach classes about the importance of the rule of law and explain how it continues to shape our nation and our lives.
---
May 3, 2022: Legal Services Alabama will host the Justice, Fairness & Hope Awards.
To register for the awards, people may visit: https://secure.everyaction.com/NI4XvVtnb0S-46cJ38sz7w2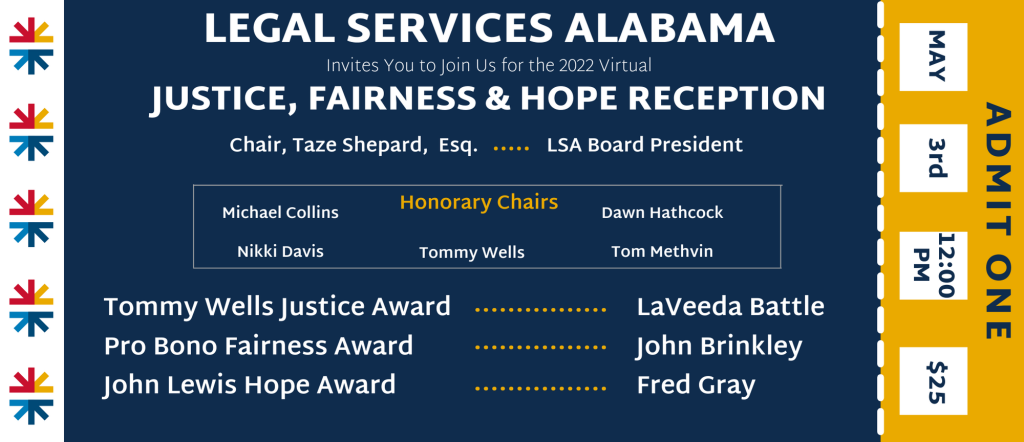 ---
May 26, 2022: Join the Alabama Civil Justice Foundation as they recognize Retired 15th Judicial Circuit Court Presiding Judge Charles Price for his legacy of service to the state as a jurist, an attorney, a legal scholar and a community servant. You can find a link to the tickets here ACJF 30th Anniversary Gala & Salute to The Honorable Charles Price (swell.gives).